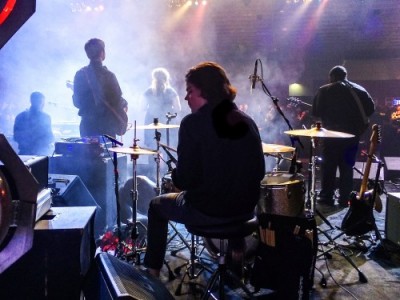 The 14th annual Crystal Ball took place Saturday at the Arena in Southaven. The major event, featured as the largest social affair in northwest Mississippi, benefits the Community Foundation of Northwest Mississippi (CFNM) and attracts attendees throughout Mississippi and surrounding states.
This year's gala honored four local Community Stars along with Bob Pittman, the native Mississippian who developed MTV and now heads Clear Channel.
The black-tie event provided an excellent dinner, enjoyable music, dancing and auctions. This is the Community Foundation's biggest annual event, responsible for raising a large portion of the organization's annual operating expenses.
The CFNM connects people who care with causes that matter. It assists donors as well as nonprofit organizations and charitable causes that make a difference in people's lives. While donors designate their charitable contributions, the foundation has set its priorities as education, health and children in order to make the greatest impact on its community.
Dr. Leslie Griffin, dean of Delta State's College of Education and Human Sciences, attended as a guest of the foundation because the college received three grants from the organization in 2013.
"The Community Foundation of Northwest Mississippi has supported Delta State University in various ways in previous years," said Griffin. "However, this past year, Bolivar and Sunflower counties were added to their service area, which extends not only the foundation's partnership network, but also its ability to provide resources to improve the lives of individuals in these counties.
"These grants are enabling us to provide better training for early childhood educators, nutritional counseling for diabetics and improved training for teacher candidates."
Other programs on campus also benefit from the CFNM's continuous charitable efforts.
Sponsors and other attendees who partake in the gala help more than 400 nonprofits assisted by the foundation, which receives all proceeds from the night. The gala is a fun way to fulfill the organization's mission of connecting people who care with causes that matter.
Music during dinner was provided by the DMI All Stars, all Delta Music Institute students at Delta State who only play songs written or performed by Magnolia State Grammy winners.
"Delta State was well represented — President and Mrs. LaForge were recognized as special guests at the event," said Griffin. "In addition, the DMI All Stars provided entertainment and were truly outstanding. The audience of over 1,000 seemed carried away with their talent and performance."
Griffin looks forward to maintaining the longstanding relationship with the organization.
"As Delta State continues to provide innovative programs that are focused on meeting the needs of the community, we will certainly reach out to the foundation as a partner with common goals."
For more information on the Community Foundation of Northwest Mississippi, visit http://cfnm.org.