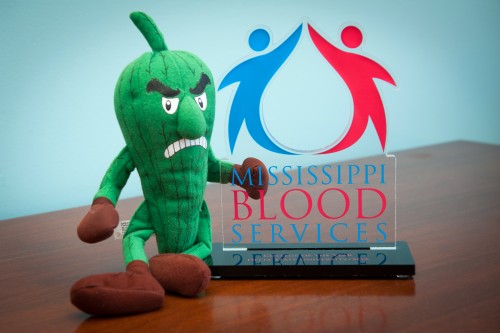 Delta State has been named Mississippi Blood Services' College of the Year for 2013. The donor busses visited campus 11 times this past year, accepting a total of 413 donations from the Delta State community.
Delta Representative for Mississippi Blood Services, Dawn R. Woods, nominated Delta State for the award after she saw an improvement in participation on campus from previous years.
"It has been my privilege since coming on board with Mississippi Blood Services to see such a turnaround with the selfless donations from the students, faculty and staff at Delta State University," said Woods. "In 2012, there were 3 blood drives with donations totaling 91 — whereas the year of 2013 saw 11 drives that on average touched 1,239 lives. It is a wonderful testament to all on the Delta State campus and those associated with the university, and that is why I felt Delta State University should be nominated for College of the Year."
Student Government Association President Sydney Hodnett appreciates the support from the Delta State community in the blood drives.
"It's awesome to see the student body donate to such a great cause. Being presented this award, with the size of our university, shows how dedicated each one of our students truly are," said Hodnett.
There has been one blood drive on campus so far this spring semester, and Delta State hopes to hold several more.
"Someone needs blood every two seconds," added Woods. "Help us make 2014 just as successful by setting up a blood drive. Contact me at draybon@msblood.com to schedule a blood drive."
The award was presented at the annual meeting in Jackson by Dr. William A. Rock, Jr., director of the clinical lab at University Medical Center, and David Allen, president and CEO of Mississippi Blood Services. Raybon greeted over 100 attendees at the reception and meeting.
"I could not be more thrilled and excited that the award went to this university. I have seen firsthand what can happen when everyone comes together because they understand how vitally important the need for blood throughout our state is," said Woods. "Thank you so much Delta State University. You have made the difference in life and death."
Keep up with blood drives held on campus through the university calendar at www.deltastate.edu.