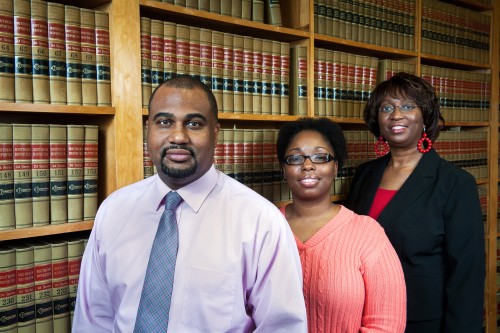 Walk into Bolivar County Administrator Will Hooker's office, and he and his staff will proudly profess their passion for the Statesmen and Fighting Okra.
The office of three is composed completely of Delta State alumni — Hooker '94 and '04; administrative assistant Sharon Johnson Hurns '83; and executive assistant Deja Carter '08 and '12.
Hooker, a chemistry undergrad major and a Master of Business Administration student while at Delta State, has held the county administrator title since 2008. He takes great pride in knowing his alma mater has prepared his entire office for a role in county government.
"Our office shows the result of the product Delta State yields," said Hooker. "We are walking proof of the product because of our direct correlation to the university. I don't think any of us would be where we are without Delta State."
As county administrator, he is responsible for organizing all county affairs falling under the control of the Bolivar County Board of Supervisors. These duties include: budget planning, work projections, purchasing acquisition, cost control, personnel management goals and more.
Johnson Hurns, a Cleveland native and business administration student at Delta State, said the institution is a common ground that has helped the staff mesh well as a team.
"There is a special connection because we all went there," said Johnson Hurns. "Even though we attended at different times, it's something that keeps us bonded every day — something that's common for all of us."
Carter, a former business and MBA student, said the university equipped her in numerous ways for her current role.
"The classes I took provided the skills I use every day," said Carter. "The course work was very helpful in the advancement of my career. It's also unique because there are so many people working in the community that have ties to Delta State.
"There are people I work with or interact with throughout the county on a daily basis that went to Delta State. It's a great sense of community when I come across former classmates."
And Hooker said the green and white pride found in his office is representative of the special relationship Bolivar County shares with the university.
"We are very lucky to have a quality school like Delta State in our county," said Hooker. "I was educated in Bolivar County, reared and retained — because of Delta State.
"We have close ties with the new administration under the leadership of President LaForge. We have partnerships in the making and want to continue to utilize the resources at Delta State to better serve the citizens of Bolivar County. We have every intention in my office to support LaForge's initiatives. It's a two-way street."
The office agreed sharing the Delta State bond, internally and with county citizens, is something that never grows old.
"We appreciate having the university so close," said Carter. "They provide a lot of activities for the community to partake in, and it's great having them right at our back door."
To learn more about the responsibilities of Hooker's office, visit www.co.bolivar.ms.us/Administrator.htm.