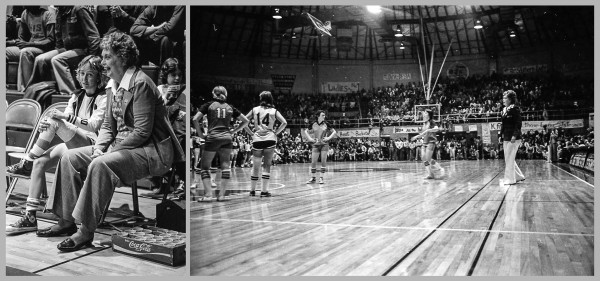 Margaret Wade's legacy on the court is without question. Thanks to a recent gift by Larry Laster and Nanette Laster to the Delta State University Archives and Museum, her legacy in pictures will be preserved for decades to come.  On Nov. 27 the Lasters donated thousands of images, artifacts and programs from Wade's time as head coach of the Lady Statesmen.
"We realized these photos needed a safe, permanent home and that home had to be Delta State," Larry said.  "We also realized the significance of what we had as it related to early days of women's college basketball and this special coach and team."
"I appreciate the time and effort Larry took to put the photos in digital form," Nanette said.  "Thinking back on my photography skills, I know that some of them are not very good, but there is some good stuff in there too. It's always fun to look at old photos, and maybe someone who attended the games can find themselves in a picture somewhere."
Nanette took most of the photographs of the Lady Statesmen given in the donation. She had been a reporter for the Grenada newspaper, The Grenada Star, during Delta State's memorable run. The images chronicle the successes of Coach Wade, her staff and the Lady Statesmen on and off the court.
The donation, collected by Larry, a former DSU cheerleader, includes a well-recognized framed collage poster of Margaret Wade and the "Fab Five" Lady Statesmen, media guides, stat sheet copies, AP print outs and two never-worn T-shirts from the 1976 and 1977 A.I.A.W. competitions. Although it wasn't worn by anyone in the Laster family, Larry came across a DSC beanie hat in a garage sale and rescued it for preservation's sake.
"In a time when photography was truly an art and before digital images were easily captured, Nanette Laster's imagery depicts the truly historic efforts and successes that Delta State enjoyed under Coach Wade," university archivist Emily Jones said. "Thanks to her brother's care, these images will enhance our ability to protect and share Coach Wade's legacy to the game of women's basketball forever."
The donation also comes at a time when Delta State is planning to unveil a statue in Coach Wade's honor this spring. The statue, sculpted by legendary Mississippi artist Bill Beckwith, will be placed in front of Walter Sillers Coliseum and Kent Wyatt Hall. Anyone wishing to make a monetary donation to the statue's preservation may do so by visiting www.deltastategiving.org or by contacting Keith Fulcher at 662-846-4704.
About Margaret Wade:
From 1973-1979, Wade made an indelible mark on the game of women's collegiate basketball, leading Delta State University to three A.I.A.W. National Championships and an amazing 157-23 record. Wade retired following the 1978-79 season with a career record of 465-85. The "Mother of modern women's college basketball" guided the Lady Statesmen to three-consecutive A.I.A.W. National Championships in 1975, 1976 and 1977. Her winning percentage (.789) remains one of the greatest of all-time.
In 1972, after a storied 25-year career as head coach of the Cleveland High Lady Wildcats, Wade, who was working as an instructor at Delta State, was selected to take over the Lady Statesmen program that she so loved as a player. "That first meeting was something. I was stunned," Wade once stated. The legend added, "I had been away from coaching for 14 years." Wade admitted that reinstating the program brought back a lot of great memories, "(Losing the program) was hard since basketball had been a major part of my life during my youth." What Wade did not realize is that it would also be a major point in her future.
According to former Delta State sports information director, Langston Rogers, "Her first four years back in coaching have been called one of the most amazing accomplishments in sports history." Under Coach Wade's leadership, the Lady Statesmen zoomed into the national spotlight, winning four Mississippi state championships, three regional titles and three national championships. Her record during the first four years was a jaw-dropping 109-6. That is an astonishing (.947) winning percentage.
Wade received numerous awards during her career, including AIAW National Coach of the Year, Kellogg's Mississippi Coach of the Year, and she was elected chairman of the Mississippi Association of Health, Physical Education and Recreation. 
In addition to being the most recognizable name in women's college basketball in Mississippi, the Women's Basketball Coaches Association named its player of the year award after the Mississippi Delta legend. The "Lily Margaret Wade Trophy" is annually awarded to the nation's top women's basketball player. In 1978, Wade awarded the first-ever trophy to Montclair State guard Carol Blazejoski.