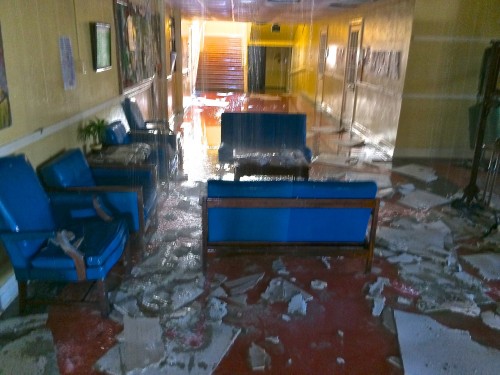 In the aftermath of flood damage to the Delta Music Institute's Whitfield Building on Nov. 30, President William N. LaForge has taken initiative with a personal lead gift going directly to recovery efforts.
The cause of the flood was a ruptured old chilled water line that serviced an air handler on the east side of Whitfield. This line was on top of a rooftop air handler located directly above DMI offices and classrooms.
Since it ruptured above the air handler, instead of dripping directly down from one floor to the next, the water was somewhat blown through the air ducts throughout most of the area.
While the accident avoided the recording studios, most of the classrooms, offices, furniture, computers, ceiling tiles and teaching equipment were severely damaged on the eastern portion of the facility.
Delta State's response to the emergency was quick, and the institution continues to pursue all necessary recovery procedures under the leadership of Steven McClellan, Vice President for Finance and Administration and Chief Financial Officer.
LaForge, a lifelong musician, developed a personal connection with the catastrophe shortly after arriving on scene to assist Facilities Management with cleanup.
"You hate to see such valuable things destroyed and instruments lost. We're talking about several hundred thousand dollars when all is said and done," said LaForge. "The DMI is an important component of the university, and as president of Delta State, I think this is one of the many programs that deserve our attention and support at this time."
"If anyone wants to make a donation — completely on a volunteer basis — it's not beneath me to ask, particularly in this season of giving," added LaForge. "If anyone has charitable dollars to donate before the end of the year, it's going to a very worthy cause."
Those wishing to contribute to recovery efforts can do so online with ease and convenience through the Delta State Foundation link: https://www.deltastategiving.org/Fund/Give/14. Your tax-deductible contribution could go towards rejuvenating offices and classrooms, and purchasing replacement equipment.
Gifts can also be made over the phone by calling 662-846-4704, or through mail to: Delta State University Foundation, DSU Box 3141, Cleveland, MS 38733. A memo should be made indicating DMI flood recovery.
DMI Director Tricia Walker said the Delta State family has always been recognized as a giving community, especially to causes held near and dear to green and white faithful.
"So many people have an affection for the Whitfield Building — some alumni have come back and been devastated to see the damage," said Walker. "We understand that people are asked to give often, and we are extremely thankful for everyone digging deep in their support.
"Replacing some of the damaged equipment quickly will be needed in order to continue our teaching and providing service to the community. In that regard, the help and support is needed."
Walker added that a positive attitude from faculty and staff has helped DMI students adapt to a difficult situation, but returning to a sense of normalcy would be nice by the start of the spring 2014 semester.
"We have a very generous community and state, especially in the so-called 'impoverished Delta,'" said LaForge. "So many folks give charitable support to Delta State, and we are very appreciative of everyone's consideration."
To learn more about the difference your gift can make to this fund, please email foundation@deltastate.edu or call 662-846-4704.
For more information on the DMI, visit www.deltastate.edu/college-of-arts-and-sciences/dmi-delta-music-institute-homepage.