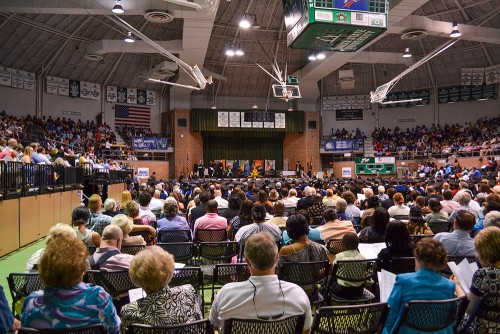 Delta State University will celebrate the 2013 Fall Commencement ceremony at 10 a.m. Saturday inside Walter Sillers Coliseum. The institution, friends and family will come together to recognize the accomplishments of over 370 graduates.
The Office of the Registrar released preliminary graduation totals at: one doctoral degree, 15 educational specialist degrees, 180 master's degrees and 177 bachelor's degrees. The degrees are awarded through the College of Arts and Sciences, the College of Business, the College of Education and Human Sciences and the Robert E. Smith School of Nursing.
The keynote speaker for the event is Debra Allen, currently in her 19th year as a faculty member in the Robert E. Smith School of Nursing. Along with serving in the faculty senate and various other committees, Allen is an advisor to the Delta State University Student Nurses Association. She is the vice president of Mississippi Nurses Association, has served as the past chair of the MNA nominations committee, delegate to the American Nurses Association and various other MNA and Mississippi Nurses Foundation committees throughout her career.
Delta State President William N. LaForge will provide introductions while presentations of candidates and degrees will be lead by new Provost and Vice President for Academic Affairs, Dr. Charles McAdams.