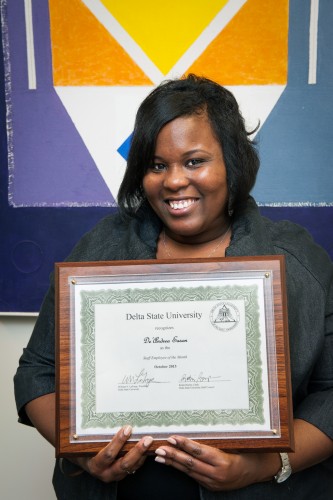 The Delta State University Staff Council announced the Nov. 2013 recipient of Employee of the Month on Tuesday. The recognition goes to De'Andrea Eason, a library assistant at Roberts-LaForge Library.
 
Eason is the daughter of the late Rev. Elijah Eason and Ethel Eason and Angelia Eason. She is the oldest of six children and is the granddaughter of Frank and Maggie Eason and the great granddaughter of Daisy Ousley.
 
De'Andrea is from Rolling Fork, Miss., where she received her high school diploma from South Delta High School. She is a 2009 graduate of Delta State with a bachelor's degree in Interdisciplinary Studies.
 
She is currently taking classes at the university to obtain her master's degree in Counselor Education. Eason is also a member of Delta Sigma Theta Sorority, Inc. and Chi Sigma Iota Counseling Honor Society.
 
In her leisure time, she enjoys purchasing handbags, pinning on Pinterest, reading quotes, cooking and being with her family, beau and friends. She finds joy and peace in listening to, encouraging and motivating others.
Employee of the Month distinction is given to a staff member who has provided service at Delta State that is considered over and beyond those duties outlined in his or her job description. Nominations are submitted by colleagues on campus.
 
Each winner receives a plaque, monetary award, Wal-Mart gift card from the Student Government Association, an engraved insulated coffee mug, a free parking decal courtesy of the Campus Police Department, a box of treats from The Sweetery, a parking spot of their choice, marquee announcement and website recognition.
 
For an archived list of previous Employee of the Month winners, visit http://www.deltastate.edu/about-dsu/administration/staff-council/staff-council-employee-of-the-month/employee-of-the-month-archives/
 
Delta State's Staff Council serves as a liaison between the administration and the staff to provide a formal process for staff to discuss issues involving university policies and procedures and to forward ideas, recommendations and opinions to the president.