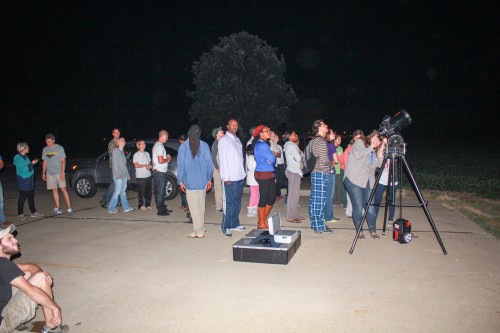 Students enrolled in Delta State's Advanced Astronomy course have the opportunity to participate in the International Asteroids Search Program (IASP) coordinated by International Astronomical Union (IAU) and NASA.
 
Delta State first participated in the program in 2009, and up until the spring, these students had discovered 13 asteroids and had more than 30 confirmations of previous discoveries. Students enrolled in the fall 2013 semester had an outstanding accumulation of discoveries with a total of 16 new asteroids.
 
The asteroids are rocky-objects, irregularly shaped and sometimes called by astronomers "potatoes-like objects" because of the similarities they have to the shape of potatoes. Their diameters vary from hundreds of miles to 30-50 inches. The largest known Asteroid Ceres is as big as the state of Texas.
 
Astronomers classify the asteroids as the remnants or leftovers after the Solar System creation. Scientists believe there were billions of collisions during millions of years of the creation process (4.6 billion years ago). They were created when particles of gas and dust collided and stuck together before the planets and sun were formed.
 
Many of these objects later became the planetary moons, but most of them started their regular orbital motion around the sun. Today, most are located between Mars and Jupiter (Asteroid Belt), but can also found closer to planet Earth.
 
This past semester, a research group coordinated by Dr. Ala Kukawa, astronomer, and Mariusz Kukawa, certified IASP coordinator for Delta State, was invited to participate in two IASP asteroid research campaigns.
 
"We were invited to the regular campaign in which we usually participate and to the special campaign, which is more advanced in the research," said Ala. "This participation was the award for the last few years of the Delta State group working hard and doing a great job."
Thanks to the invitation, students will now participate in both campaigns in future semesters.
 
"This hard work brought big success for Delta State," added Kukawa. "We discovered 16 new asteroids. Previously, the largest number in one semester was five in the spring semester of 2013."
 
Each discovery receives preliminary or provisional status depending on the number of its observations to confirm existence. A discovery can be confirmed by a minimum of two independent observations. Usually the provisional status replaces preliminary after a few weeks or a few months of attempting to observe the object.
 
"In our course's history of participation in the campaigns, all asteroids discovered since 2009 until the spring of 2013 got the provisional status," said Kukawa. "The more recent discoveries will probably change their status during the next few weeks."
 
Astronomical rules allow the discoverer to decide the name of the object aside of its regular catalog name. Delta State's original discoveries were named DSU and Cleveland, MS.
 
The first asteroid discovered by students in September was officially confirmed on Oct. 16. To honor new Delta State President William N. LaForge, the group immediately decided to name this discovery Asteroid LaForge. This asteroid has been changed to provisional, meaning its existence has been confirmed.
 
Other present and former Delta State faculty, staff and administrators recognized with asteroids include: Dr. Kent Wyatt, Dr. James Robinson, Dr. Barry Campbell, Clint Wood and Dr. E.E. Caston. Also included in the names of provisional asteroids is Bolivar, BCVFD for the Bolivar County Volunteer Fire Department and Bayou Academy.
 
In addition to new discoveries, students this fall also confirmed the existence of 26 asteroids previously found. Advanced Astronomy students from the past semester included: Teresa S. Griffin, Gwendolyn B. Lidge, Jeremy W. Hughes, Brady L. Osborne, A. Spencer Thomas, Jonathan R. Boggus, Steven B. Womble, Stephen B. Racine, Breck E. Severns, Christian B. McCollough and Trevor H. Hopper.