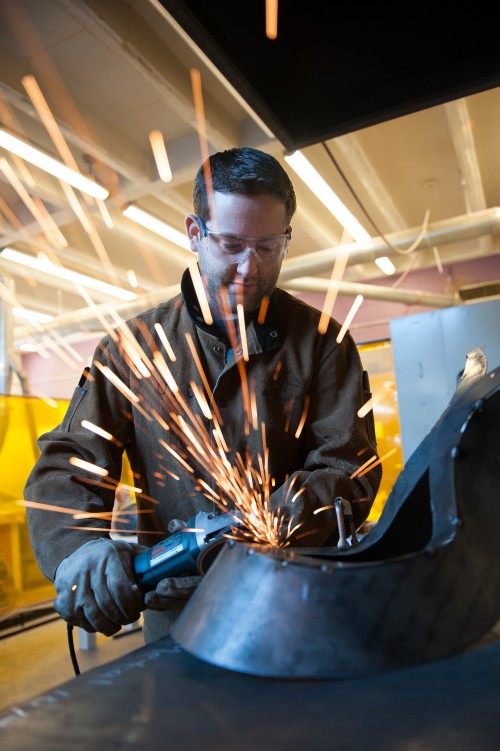 Teaching youth a valuable skillset is the goal of Delta State's new sculpture professor, Michael Stanley.
Stanley, who began working for the university in August, recently completed his inaugural six-week introduction to welding course offered to local high school students. Well versed in metal fabrication, Stanley felt it was imperative to provide a meaningful and alternative after-school opportunity for area students.
Impressively, he has agreed to maintain and grow the program completely on a volunteer basis — an undertaking he was not asked or pressured to take on. Thanks to support from the Delta Arts Alliance and anonymous donors providing materials, the class operates on a very minimal budget.
The initial group was composed of six students from the Cleveland School District who met once a week for a two-hour session. And despite volunteering his time outside of his university workload, Stanley wants to see the program expand and begin offering lessons multiple times throughout the week.
Working for Delta State, he is able to teach the course in the back of Holcombe-Norwood Hall, where students utilize some of the machinery already on campus.
"They are developing a skill that is really needed in America today. A person working with their hands is a skill getting lost in our culture now," said Stanley. "We ship so many things overseas that we don't make much anymore — and specifically through welding and metal fabrication.
"I always felt if I ever had the opportunity to do a program like this it would be successful in the community. There's a lot of need for welders in the area and across the country."
Partnering with the DAA and making use of the art department's workspace, the program has already gotten off to a thriving start. The six initial students have been very responsive and have all shown interest in taking the class again when it restarts in late January.
"It gives them something to do one day a week after school and it's keeping them occupied and engaged," he said. "They're meeting people outside their normal cliques and learning about teamwork, craft and the linear thinking that happens when you're working in a trade. They're learning to make a product that is sellable and usable."
Along with the mental and physical challenges of welding, they also learn about its related science and history. By the end of the program, students are skilled in various cutting, grinding and welding techniques.
Projects are collectively created as pairs of students rotate to different stations, each playing a hand in the final product. The first session ended with functioning tables, which even drew interest from a potential buyer at a recent DAA event.
While the students don't receive a formal welding certificate at the end of the course, it does provide them the needed practice and opportunity to pursue welding as a career. "They'll have the knowledge already and pass the certification on the first try," said Stanley.
Another bonus with the program is the community partnerships it has already started to form.
"This shows that Delta State is part of the community and not an autonomous unit outside of it," said Stanley. "I think it's really important to invest in Cleveland and the Delta. Doing so gives kids a glimpse at higher education and lets them know it's obtainable and feasible for them to go to college.
"We have to be invested in our community because without students a school won't survive. Everybody thrives because of these relationships and the stronger the Delta becomes."
If the platform continues to grow, as Stanley anticipates, additional support will be needed. Assistance can come through equipment and material donations, a larger working space, or even picking up and dropping off students on class days.
Those interested in taking part, either as a student or supporter, contact DAA Executive Director Rori Herbison at 662-843-3344 or Stanley at mstanley@deltastate.edu.