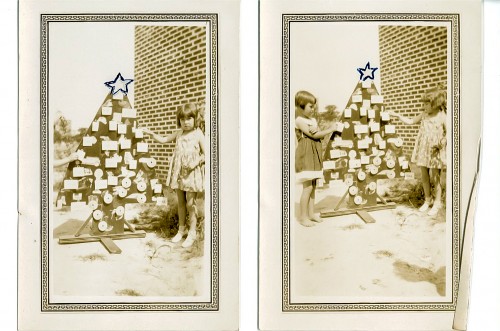 Keith Frazier Somerville and her husband made Cleveland their home in 1912 — despite the lack of a library. In the face of literary deprivation, she simply created a library. Local author Linton Weeks estimates that Cleveland's first kindergarten was held at Somerville's home just north of Jones Bayou Bridge on South Leflore Avenue.
 
"Somerville's willpower and sense of conviction paired perfectly with her flair for crafting a story," said Delta State University Archivist Emily Jones. "'Christmas in the Primer' is one example of the balance between Somerville's love for writing and her resolve to fill a need. With the Christmas season upon us, sharing this curiously delightful piece from the Archives collections seems appropriate."
 
A primer was a book used for teaching elementary children to read. The Delta State University Archives and Museum received Somerville's primer as a gift from her granddaughter, Keith Dockery Derbes, who also donated other pieces written by her grandmother. Estimated to have been penned sometime in the 1920s, the book was an essential classroom piece for the teacher.
 
Somerville taught first grade at the Cleveland Consolidated School, which was the largest consolidated school of its kind in the world by 1926, wrote J.W. Parks.
"Christmas in the Primer" begins this way: "Away down South, in the land where the cotton grows, and the biggest consolidated schools in America flourish equally well, Christmas comes with a bang."
 
Somerville would ensure that her class would glean every bit of knowledge she could impart and would have a cheerful time doing so. Keith Dockery McLean reflected on her mother.
 
"We had a creative and bright mother who dreamed up fascinating things for us to do," said McLean.
 
There was much enthusiasm from the children as the weeks passed before Christmas. Naturally, the primer and first grade teachers took advantage of this enthusiasm to foster the most important of their subjects, primary reading and word recognition.
One creative way that Somerville taught word recognition was to create a word Christmas tree. In the book, she provides instruction on how to construct the tree and the word cards, as well as a variety of lessons on how the tree can be used for classroom instruction. Not one to simply choose words at random, Somerville consulted Thorndyke's list of best known words in the English language for her students.
 
"This manuscript was a prized family treasure over the years, but it should also be noted that the photographs taken during those long-ago school days were also preserved," said Jones. "Demonstrating the Christmas word tree are a few of the students from Somerville's class. Tokens such as these items share our past with our present.
 
"The Archives & Museum is grateful for the generosity of our donors over the years as we now boast more than 360 collections of manuscripts, photographs, audio recordings, textiles, artwork and other pieces of Delta memorabilia. Thank you for sharing your history with us."
For more information, visit http://www.deltastate.edu/academics/libraries/university-archives-museum/.