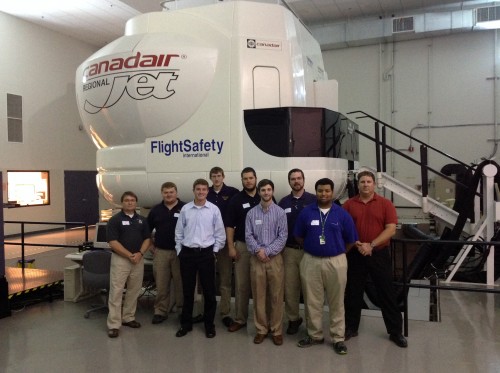 Seven of Delta State's Commercial Aviation students recently traveled to FlightSafety International in Memphis to receive training and experience the simulators at the center.
The facility is leased and used for pilot training by Endeavor Airlines, formerly known as Pinnacle Airlines. The center features three full-motion simulators that provide annual training for airline pilots. Students met with Captain Weldon Phelps and Captain Terry Harvell for over three hours and each had an opportunity to fly the simulators.
Commercial Aviation faculty attendees included Brett Oleis, instructor, Trey Rayburn, assistant chief flight instructor, and Matt Mabus, assistant chief flight instructor. Students included Chance Beicker, Jacob Creely, Tyler Densford, David James, Marcus Magee, Jarid Roan and Austin Taylor.
Endeavor Airlines is a wholly owned subsidiary of Delta Airlines, employs over 2,000 pilots and operates over 200 regional jets. Numerous Commercial Aviation graduates from Delta State have been employed by this airline.
The Department of Commercial Aviation offers a Bachelor of Commercial Aviation (BCA) as well as a Master of Commercial Aviation (MCA). The department provides courses in general aviation, aviation management, and airway science.  Students have access to a flight training fleet, which includes over 15 aircrafts and 3 multiengine training planes. Delta State is the only institution in Mississippi currently offering these degree programs.