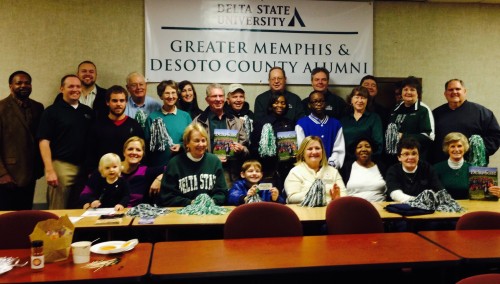 The Delta State University National Alumni Association recently traveled to Memphis for the annual Christian Brothers University event hosted by the DeSoto County and Memphis Alumni Chapters. Attendees gathered in the St. Joseph Room on the campus of Christian Brothers University.
More than 50 people attended the event. Guests from campus included President William N. LaForge, Chief Developmental Officer Gary Bouse, Director of Donor Relations Ann Giger, Assistant Professor of Communication Studies Sally Paulson, Alumni Secretary Elizabeth Bowler and Director of Alumni Affairs Jeffrey Farris.
 The Alumni Association staff and hosting chapter presidents provided a social environment for fellowship. Attendees enjoyed barbeque catered by Central Avenue BBQ. The annual gathering has been a long time tradition of the DeSoto County and Memphis Alumni Chapters, allowing them to show support for the Lady Statesmen and Statesmen basketball teams.
For more information on the Alumni Association, contact 662-846-4660 or visit www.deltastate.edu/alumni. Follow the Alumni Association on Facebook: Statesmen Graduates; Twitter: @DSU_Alumni; Tumblr: www.dsualumni.tumblr.com; LinkedIn: DSU alumni; and You Tube: dsualumni1.