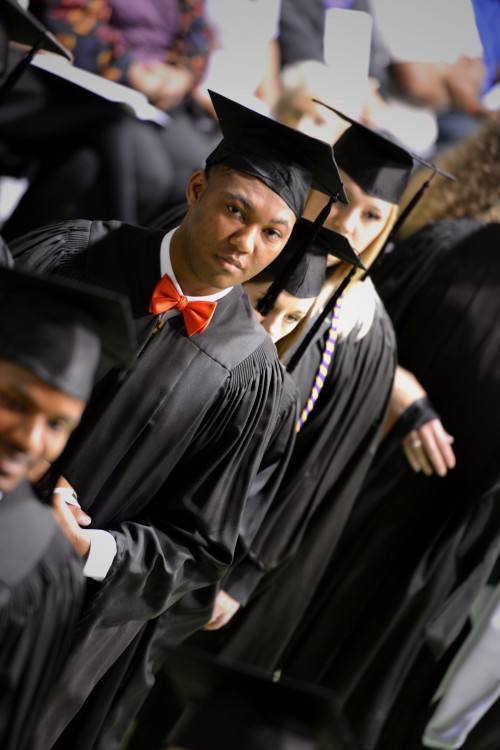 Delta State University celebrated its 2013 Fall Commencement on Saturday inside Walter Sillers Coliseum. Friends and family gathered with university faculty and staff to honor the accomplishments of 369 graduates.
The Office of the Registrar released preliminary numbers at: three doctoral degree, 15 educational specialist degrees, 178 master's degrees and 176 bachelor's degrees. The degrees were awarded through the College of Arts and Sciences, the College of Business, the College of Education and Human Sciences and the Robert E. Smith School of Nursing.
Delta State President William N. LaForge provided commencement introductions and acknowledged the communal effort that played a role in the graduates' success.
"Today's graduates have reached a milestone and we recognize their achievements," said LaForge. "However, this celebration does not belong only to them. Graduates, you have enjoyed the help of family and friends. Join me in recognizing all who have supported and encouraged you through these college years.
"Also, graduates, Delta State faculty comprise the real treasure of this university. I ask that all faculty stand and that everyone join me in recognizing the contributions they make to so many lives."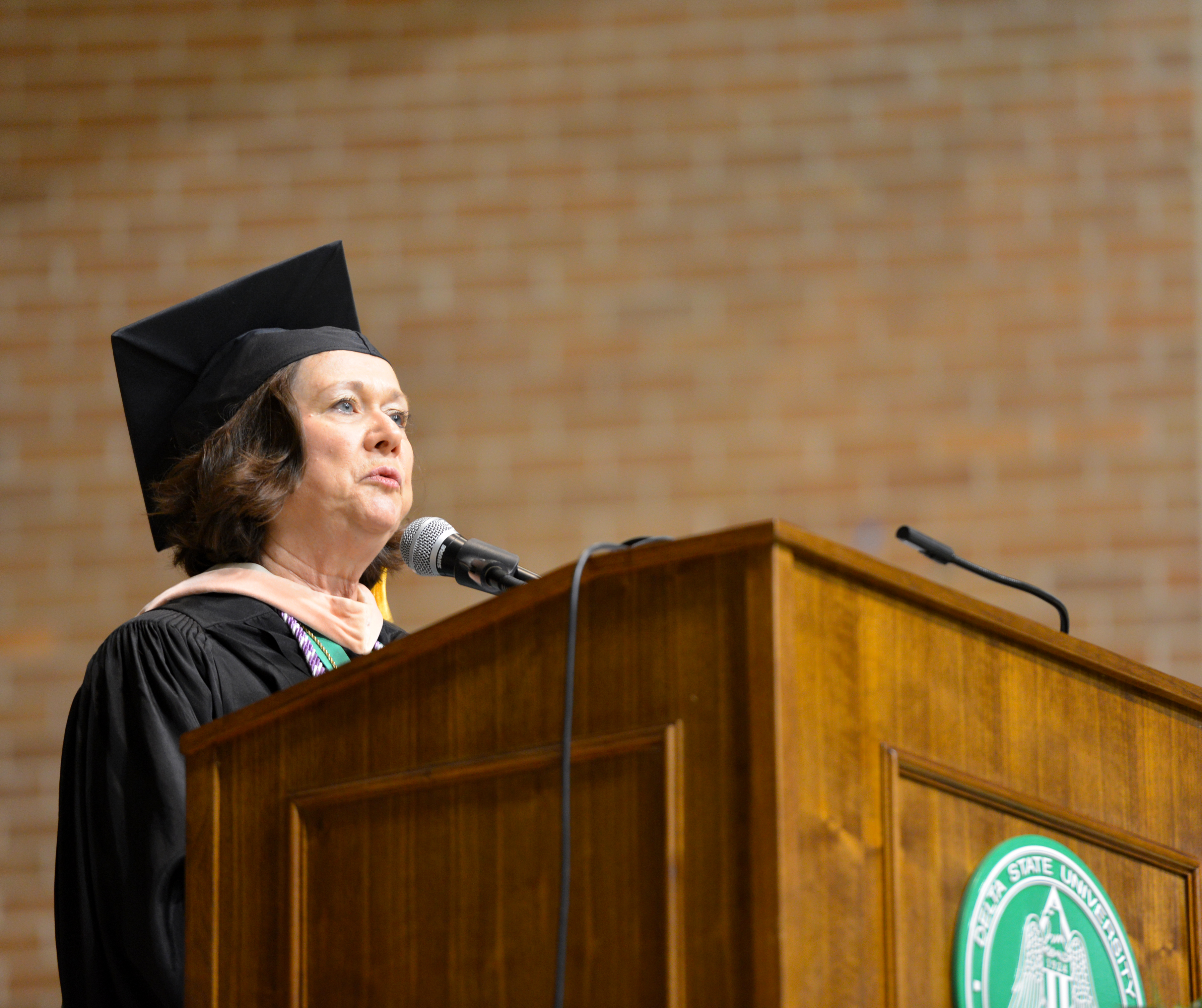 The keynote speaker for the event was Debra Allen '97, who is heading into her 19th year as a faculty member in the Robert E. Smith School of Nursing. Allen is the recipient of the 2013 Kossman Teaching Award, the highest distinction a faculty member may be awarded at Delta State. Along with serving in the faculty senate and various committees, Allen is an advisor to the Delta State University Student Nurses Association.
She is the vice president of Mississippi Nurses Association, has served as the past chair of the MNA nominations committee, delegate to the American Nurses Association and other MNA and Mississippi Nurses Foundation committees throughout her career.
The title of Allen's address was "Life's Journey," in which she encouraged students to go forward with a positive attitude, commitment and purpose.
"These three principles sound very easy and simple — yet, they are hard to follow each and every day," Allen said. "That is the reason you must learn to accept your best and recognize that your best will be different depending on the situation and the circumstance.
"Remember that failure can lead to success. Do not wait for success — just go ahead and it will come. Failure provides you feedback to learn from your mistakes and guides you to achieve your goals or perhaps even change your goals.
"But remember you represent us — you are a Statesman, a Fighting Okra. So now you are off to great places! You're off and away!"
Presentations of candidates and degrees were lead by new Provost and Vice President for Academic Affairs, Dr. Charles McAdams. New to the ceremony this year was an arrangement of national flags for each international student who graduated.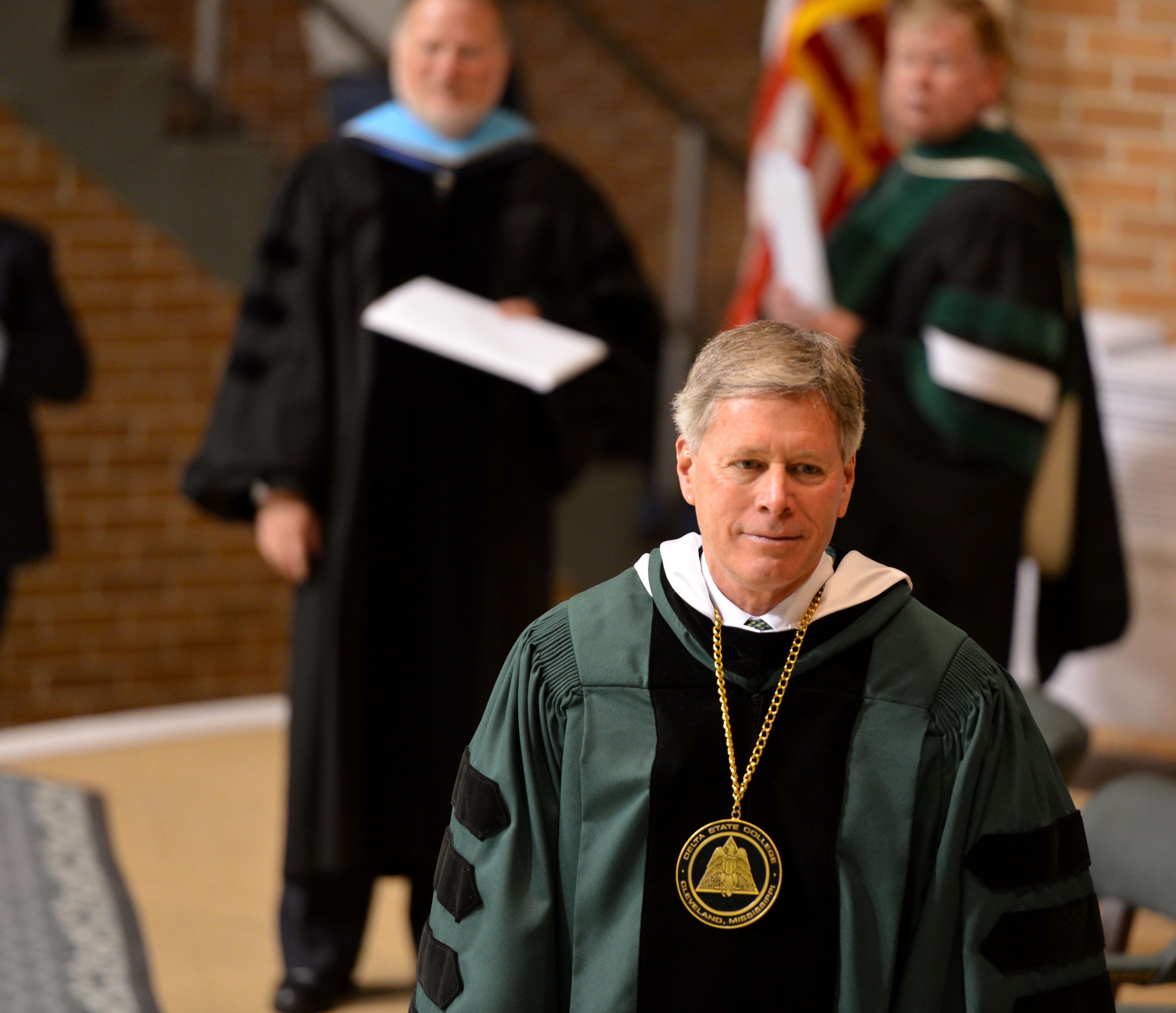 LaForge provided closing remarks, signifying a joyous end for the graduates.
"On behalf of the faculty, staff and governing board, I extend congratulations to all graduates," he said. "I urge you to view your college education as a trust that commits you to a lifetime of learning and service.
"This nation and the state of Mississippi need the benefit of the skills and learning you have acquired here. We send you into the world with our deep affection and wish for each of you the fullest measure of success."