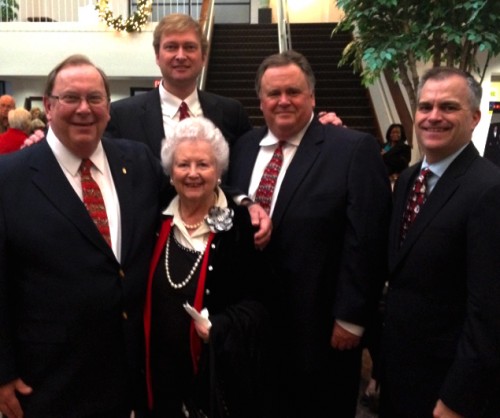 Theater-goers from across the Delta recently traveled to the Bologna Performing Arts Center to celebrate the season with the performance "A Mississippi Delta Holiday." Produced by the Delta Music Institute at Delta State University, the third annual program featured groups from across the Delta region.
The holiday concert included singer/songwriter Liz Davis from season 3 of NBC's hit show The Voice, who has family ties to the Delta. Davis entertained the crowd with several holiday classics, including "I'll Be Home for Christmas."
The Buford Family, composed of classically trained vocalist Gwin Buford and her four daughters, brought Dolly Parton's "Hard Candy Christmas" and the classic carol "O Holy Night" to life, along with other seasonal favorites. Also performing was the Double Quick Angel Choir, a group composed of Double Quick, Church's Chicken and Krystal employees, whose soulful version of "Go Tell It On the Mountain" stirred deep emotion in the crowd.
The Generations of Indianola presented their signature doo-wop sound, especially heard in their rendition of the Beach Boys' hit song "Little Saint Nick." A youth choir from the B.B. King Museum in Indianola, the B.B. King All Stars Choir, performed a mix of contemporary and traditional music.
The Delta Music Institute Cups Ensemble opened the concert, and Delta State President William N. LaForge sang and played guitar in homage to two kinds of Christmas, Elvis's hit "Blue Christmas" and the customary "White Christmas."
"We have received so many compliments on this program," said Laura Howell, executive director at the Bologna Center. "People who have lived in the Delta their whole lives didn't know that some of these groups even existed. They were blown away by the quality of our local talent."
Following the performance, all patrons enjoyed a reception of hot chocolate, coffee and a variety of cookies while mingling in the lobby with the concert's artists and Santa Claus.
The next program at the Bologna Center will be the American Spiritual Ensemble on Feb. 6 at 7:30 p.m. Featuring professionally trained singers, the American Spiritual Ensemble will provide dynamic renditions of classic spirituals and Broadway numbers. For more information, visit www.bolognapac.com or call (662) 846-4626.