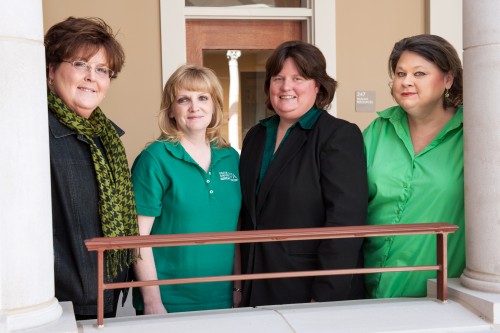 Four members of Delta State's Administrative Staff Council's Executive Committee traveled to Hattiesburg to participate in MASCO Day on Oct. 30.
The Mississippi Association of Staff Council Organizations (MASCO) is a statewide group representing staff from the eight institutions in the Institutions of Higher Learning system.
Held at the University of Southern Mississippi, the meeting was attended by 25 staff members representing seven of the eight universities; Alcorn State University, Delta State University, Jackson State University, Mississippi State University, Mississippi University for Women, the University of Mississippi and the University of Southern Mississippi.
Representing Delta State University's Staff Council was Robin Boyles, chair; Marilyn Read, chair-elect; Vickie Williams, secretary/treasurer; and Suzanne Simpson, public relations coordinator. The trip was made possible through a Bryce Griffis grant.
"Meeting with other Staff Council officers affirmed for me that our Staff Council here at Delta State is an active and integral part of our campus," said Boyles. "We clearly have the most structured and comprehensive Employee of the Month program in Mississippi and that is primarily due to the contributions of Dr. James Robinson and the dedication of Bert Herbison and the Incentives and Recognition committee.
"Our community outreach that is led by our Projects Committee is second to none."
The event began with a dinner at the home of President and Mrs. Rodney Bennett on Tuesday evening. Wednesday's schedule consisted of sharing activities that each council engages in, a discussion of challenges and issues facing university staff, and an open forum with Toby Barker, State Representative and State Senator Billy Hudson.
The mission of Delta State University's Staff Council is to serve as a liaison between the administration and the staff of Delta State University to provide a formal process for staff to discuss issues involving University policies and procedures and to present ideas, recommendations, and opinions to the President; to institute programs to provide individual and university-wide staff development; to promote increased communication among departments and employees; to enhance job satisfaction and motivation; and to recognize outstanding achievement and work performance by members of Delta State University.
Delta State's Staff Council is dedicated to excellence in service and the continued growth and development of the university.