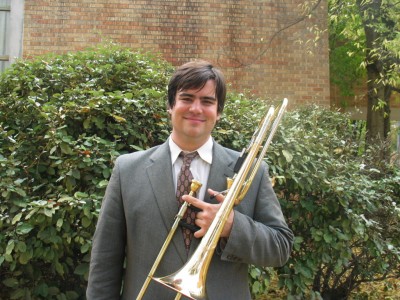 The Delta State University Department of Music will present Brian Thomson in his senior trombone recital on Nov. 19 at 7:30 p.m. in the Recital Hall of the Bologna Performing Arts Center. Thomson will be performing compositions by Bach, Brahms, Stojowski, Monaco and Dorsey.
Thomson, a senior trombone performance major from Greenwood, Miss., is the grandson of Allen and Charlene Wood. He studies with Dr. Douglas Mark, associate professor of Trombone/Low Brass at Delta State University.
Since entering Delta State in 2008, he has been an active member of the Wind Ensemble, the Low Brass Ensemble, the Jazz Ensemble, and The Pride of the Delta Marching Band. Thomson has been a featured soloist in each of these ensembles throughout the course of his studies. For the past three years, Thomson has been a performer in Delta State's Honors Recital, a recital comprised of students selected by competitive audition. In 2010, he was awarded first place in the brass division of the MMTA state solo competition. In 2011, he took first place in the MTNA Young Artist Solo Brass Competition for the state of Mississippi and went on to represent Mississippi and Delta State in the Southeast regional competition.
Prior to attending Delta State University, Thomson received a Certificate of Music in electric bass studies from The Atlanta Institute of Music.
The recital is free and open to the public.