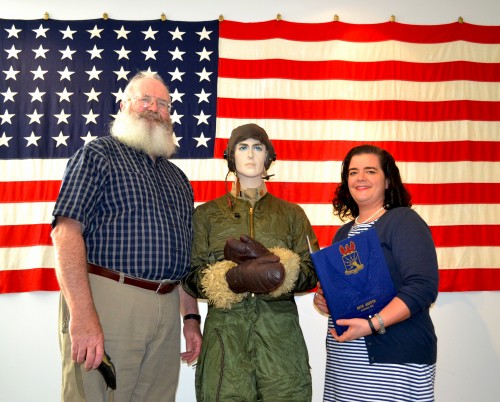 Volunteers, veterans and President William N. LaForge will read a selection of letters written during World War II in honor of Veterans Day on Monday.
The program will begin at noon in the Capps Archives & Museum building on the campus of Delta State. The public is invited to attend.
Those partaking in the public Veterans Day celebration at 11 a.m. at the Bolivar County Courthouse in Cleveland are welcomed at Capps Archives following the annual tribute.
"Most of the letters to be read come from the Virginia Thompson papers," said Emily Jones, university archivist. "Ms. Virginia, as she was affectionately called by many, served as the secretary to President William Kethley. She would receive letters written to her and to Dr. Kethley and made sure each student soldier received a reply with a copy of the MS Delta newspaper."
 
This event also marks the opening of the archive's brand new exhibit, "World War II: Mission VICTORY – Fighting the Air War." Co-curated by collector, George Frisbee, the exhibit features signature pieces from his private collection of Army Air Force memorabilia from World War II.
One of the three components of the United States Army, the AAF administered all parts of military aviation, which had formerly been distributed among the Army Air Corps.
"By the end of World War II, the AAF would become virtually independent of the Army and would become totally autonomous by September of 1947 when it would be renamed the United States Air Force," added Jones.
This exhibit focuses on preparing for and conducting air combat missions. Featured memorabilia includes: full soldier gear, medals of distinctions, letters from prisoners of war, navigation equipment, original aircraft nose art, training manuals and cadet yearbooks. Posters and maps outline specific flight patterns and significant events in various World War II campaigns.
"The exhibit is arranged so that visitors can walk the path that so many young men and women took to become soldiers," said Jones. "From cadet training in Greenville, Clarksdale, Grenada and Greenwood, to live action in the air over Europe, pieces of history share personal stories."
 
The program will begin at noon in the Capps Archives & Museum building. The public is invited to attend. For more information, visit www.deltastate.edu/academics/libraries/university-archives-museum.