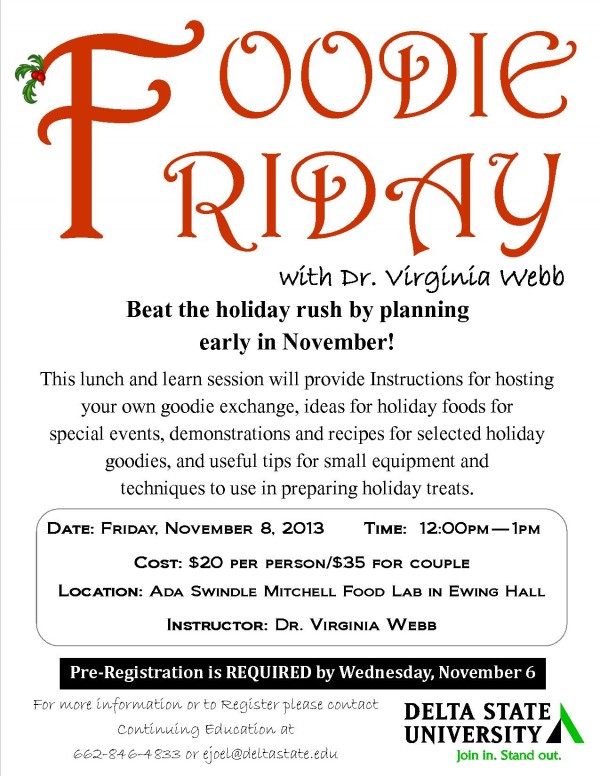 Delta State is offering a lunch and learn class through the Office of Continuing Education on Nov.8 at 12 noon in the Ada Swindle Mitchell Food Lab in Ewing Hall. The class, Holiday Goodies, is part of a "Foodie Friday" series led by Family and Consumer Sciences Assistant Professor Dr. Virginia Webb.
The interactive class will include a food preparation demonstration, recipe review and lunch. Topics will include instructions for hosting a goodie exchange, ideas for holiday foods for special events and recipes for selected holiday treats. Dr. Webb will also cover useful techniques and tips in preparing holiday goods.
Coordinator of Continuing Education Elizabeth Joel is looking forward to this week's class.
"Continuing Education provides personal enrichment classes for our community. In these classes, we strive to teach the participants something that they can, in-turn, go home and do by themselves," said Joel. "The Foodie Friday lunch hour classes do just that. Dr. Webb will demonstrate several fun and unique recipes using the food preparation area in the lab.
"Once the preparation and demonstrations are complete, the class will enjoy a wonderful lunch that will include some of the recipes just shown to them. Recipes are sent home with each participant so they can then make them for their family or friends. We are looking forward to the Holiday Goodies Edition of Foodie Fridays since Thanksgiving and Christmas are right around the corner."
The Holiday Goodies class is $20 for one participant or $35 for a couple. Pre-registration is required by the Wednesday before each class. To register or find more details, please contact Continuing Education at 662-846-4833 or email con-ed@deltastate.edu.