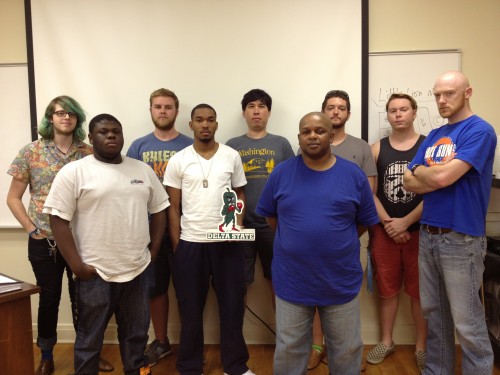 Fighting Okra Records, a student-run record label at Delta State University, will continue its operations during the 2013-14 academic year with a new staff of music industry studies students.
Fighting Okra Records, housed in the Delta Music Institute, is the combined outcome of students enrolled in the Record Label Practicum course at the DMI. Building on the success of last year's Fighting Okra: Round 2 compilation, this year's staff is looking forward to an exciting new year.
Students staffing the label are assigned responsibilities within departments, using a real world record company model. These departments include the areas of publicity, legal and finance, promotions, sales/marketing, product and artist development and new media.
"One of the main challenges for students in this type of practicum course is dealing with all the unexpected changes that happen in a project like this over the course of a semester," said director Tricia Walker. "Learning to manage those changes will be beneficial in the real world."
"Here at Fighting Okra Records we have an exciting year ahead," said general manager Jesse Mansfield. "I am pleased to be working with this new staff and look forward to serving the community. We have an incredible new artist on our roster to be announced in the very near future. Stay tuned."
Fighting Okra Records is the driving component of the DMI's Record Label Practicum course. The mission of Fighting Okra Records is to provide a practical, real world music industry experience to the students and to provide a variety of independent artists with professional quality music industry services in an effort to expose their name in recordings to the broadest possible audience.
The Delta Music Institute is an independent center of study under the College of Arts & Sciences of Delta State University. The focus of the DMI is to provide students with a broad and thorough education in the technological, creative and business areas of the music and entertainment industry. For more information, contact the DMI at 662-846-4579 or dmi.deltastate.edu.
Photo: (LR) Curtis Lehr (Brandon, MS), New Media; Horace Willis (Arcola, MS), Legal/Finance; Jesse Mansfield (Hattiesburg, MS), General Manager; Charles Ross (Indianola, MS), Promotion/Marketing; James Still (Senatobia, MS), New Media; Louis Stewart (Clarksdale, MS), Artist Development; Curtis Nunnery (Smithdale, MS), Publicity/Artist Development); Jonathon Smith (Enterprise, MS), Artist Development; Glenn Neilson (Oxford, MS), Artist Development/Publicity; Not Pictured: Robin Webb (Ruleville, MS), Artist Development/Publicity; Christopher Matthew Moore (Greenwood, MS), Legal/Finance