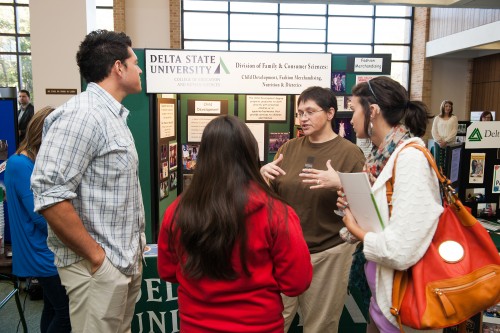 Thanks to the Delta State University Staff Council Projects Committee, students at Bayou Academy will be presented with a DSU Day on Nov. 21 from 9 a.m. to noon in the school's gymnasium. The special program will serve as an awareness and recruitment event.
The administrative Staff Council is considering this type of platform at other local schools depending on the outcome at Bayou Academy. This is the kickoff attempt for the program.
The visit will cater mainly to students in grades 9-12 and will provide information from a number of Delta State academic and service departments.
Justin Chandler, chair of the Projects Committee, said this program would benefit all high school grades, not just the juniors and seniors.
"We're seeing that students are figuring out where they want to go to college earlier and earlier," said Chandler. "We want to target ninth and tenth graders too and make them aware of some of the programs and what's available to them."
Robin Boyles, chair of the Staff Council, said this is another effort from the staff to boost Delta State's presence.
"President LaForge has stated that recruitment is everyone's responsibility," she said. "The Staff Council Projects Committee saw an opportunity to support recruitment by bringing awareness of Delta State's programs and activities to area students."
Chandler added that it's ever important to expand the educational careers of talented local students.
"Many of the students here have an emotional attachment to the Delta," he said. "And we want to educate these students and help them stay in the Delta. Once they come to school here, we know they'll fall in love with the university and the entire region."
The mission of Delta State University's Staff Council is to serve as a liaison between the administration and the staff of Delta State University to provide a formal process for staff to discuss issues involving University policies and procedures and to present ideas, recommendations, and opinions to the President; to institute programs to provide individual and university-wide staff development; to promote increased communication among departments and employees; to enhance job satisfaction and motivation; and to recognize outstanding achievement and work performance by members of Delta State University.
Delta State's Staff Council is dedicated to excellence in service and the continued growth and development of the university.
For more information or to discuss a visit day at your school, contact Chandler at 662-846-4052 or jchandler@deltastate.edu.