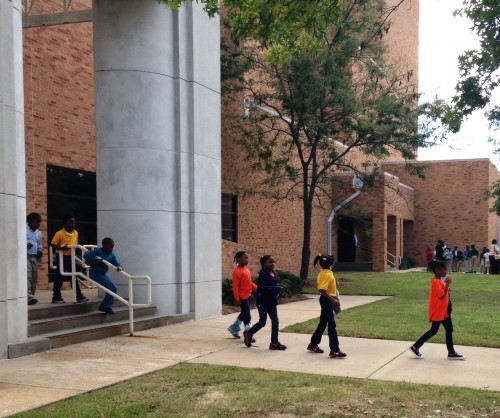 Over 1,800 local school children arrived at the Bologna Performing Arts Center (BPAC) on Oct. 9 to enjoy matinee performances of Stuart Little, presented by the Dallas Children's Theater. Students traveled to the BPAC from several counties including Bolivar, Coahoma, Humphreys, Leflore, Sunflower, and Washington.
Stuart Little is the first of five matinees to be presented throughout the school year as a part of the Bologna's School-Time Matinee Series. The Bologna would like to extend a special thanks to Entergy Mississippi for sponsoring Stuart Little.
During the performance, students of all ages discovered the surprising story of a most unusual mouse who was born into an ordinary New York City family. The students were able to observe that in no time at all, Stuart Little's life became a series of adventures and misadventures as he learned to survive in his super-sized world of humans. Children inside the theater cheered, laughed, and applauded as Stuart Little zoomed across the stage in his little red race-car towards exciting adventures.
Coming up next in the Bologna's School-Time Matinee Series is MatheMagic!®, an exciting performance that combines the important concepts of math and the fun of magic. MatheMagic!® will be presented on Wed., Oct. 30, at 9:30 a.m. for kindergarten – 3rd graders, and 11:30 a.m. for 4th – 8th graders. To reserve tickets, please call the BPAC Arts Education department at 662-846-4844.