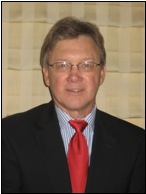 Mike Neyman '72 was recently selected as the 2013 Outstanding Alumnus for the Delta State University College of Education and Human Sciences.
Neyman has been a board member of the Delta State University Foundation for 14 years, where he previously served as president and vice president; chair of the Trusteeship Committee; member of the Finance Committee; and currently serves as a member of the Executive Committee.
He is an educational consultant associated with the Institute for Education and Workforce Development, focusing on leadership, mentoring and school improvement.
"Mike Neyman was a unanimous selection in our college when considering bestowing this year's honor," said Dr. Leslie Griffin, dean of the College of Education and Human Sciences. "He has been a loyal friend and advisor to this college and this university community on a number of levels. Additionally, he has an established track record of having lasting and positive effects on schools in our region through the leadership roles he has held."
A career educator who has served in leadership roles in Mississippi and North Carolina, Neyman possesses national certification from the National Institute for School Leadership in Washington, D.C.
Today, he conducts NISL training in numerous states and teaches the alternate route leadership certification curriculum to future Mississippi school leaders. His experiences in Mississippi include principalships at Independence, Cleveland and Biloxi High Schools and district level positions with the Biloxi Public School District and Henderson County, North Carolina, Public Schools.
For more than eight years, Mike served as executive director of the Mississippi School for Mathematics and Science, Mississippi's public, residential high school for gifted and academically able students. In addition, Mike has supervised student teachers for the College of Education at the University of Mississippi.
"Mike continues this work today and can be found throughout the Delta region working diligently to provide training and support for current school leaders," added Griffin. "His reach is far and his heart is big — our entire college and the constituents we serve benefit from the career work of individuals such as Mike Neyman."
For more information on the College of Education and Human Sciences, visit www.deltastate.edu/college-of-education.