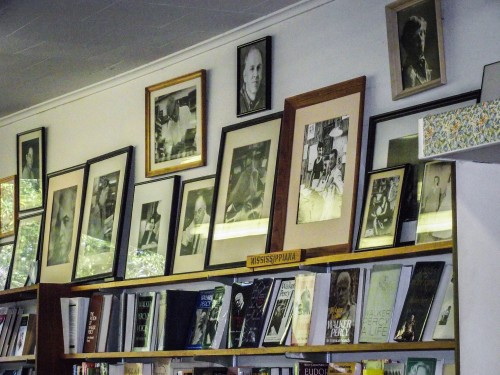 The Roberts-LaForge Library has long been a cornerstone of learning on the campus of Delta State University. With its abundant resources, it provides students and the community the tools needed for a successful education and the opportunity for advanced learning.
The building holds special meaning to President William N. LaForge, as it is partly named in honor of his father, Dr. William F. LaForge, who served 35 years at Delta State as a professor of history, chair of social sciences and dean of the College of Arts and Sciences.
President LaForge, who is gearing up for his inauguration, anxiously awaits the revealing of a unique book collection that will bring even more character to the library.
On Oct. 28 at 6:30 p.m., a historic collection of about 375 literary works by authors from the Mississippi Delta and surrounding area will be unveiled as an inaugural donation from Greenville-based book collector Hugh McCormick.
The collection will be housed on the second floor of the library in its own permanent installation. The public is invited and encouraged by the president to attend the unveiling.
Delta State acquired this impressive private collection, comprised of mostly first editions and some signed copies, when McCormick's bookstore in Greenville — McCormick Book Inn — recently closed its doors after 40 years of preserving and furthering Greenville's rich literary history.
McCormick has dedicated the greater portion of his life collecting poetry, fiction and nonfiction works by notable Delta authors such as Walker Percy, Shelby Foote, Ellen Douglas, and current local writers like Charlotte Hayes and Gayden Metcalfe.
According to Delta State Archivist Emily Jones, a Greenville native, the bookstore was a cornerstone of the community. "He was a real bookstore owner. He knew his books and customers," said Jones.
Jones and McCormick both agreed that while preserving the books was important, putting them behind a glass case would defeat the purpose and motivation behind the collection. People are invited to not only view the collection but to also read the books.
"It's not about books sitting on a shelf to be admired," Jones said. "It's about reading, comprehending and appreciating the work of these Delta writers. McCormick has a huge respect for the well-written word and it is evident in this collection.
"He collected like no one else I know could have done — and he did so with sensitivity and care."
McCormick dedicated much of his time, effort and resources to acquire this vast collection. Jones said, "I was honored that he thought of and chose Delta State to carry on his tradition of preserving and appreciating the history and literature of Delta writers."
To learn more about services and resources at the Roberts-LaForge Library, visit www.deltastate.edu/about-dsu/maps-directions/campus-map/roberts-laforge-library/.
— All inauguration events are funded through private support to the Delta State University Foundation. No university funds are being used during the week of activities.