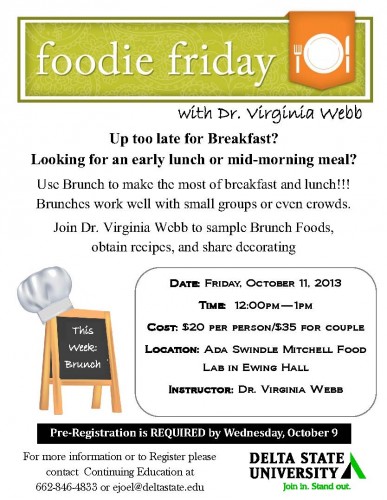 If you wake up too late for breakfast or need to beat the holiday rush with early planning, Continuing Education at Delta State is offering classes just for you. Two "Foodie Friday" classes will be held from noon to 1 p.m. in the Ada Swindle Mitchell Food Lab in Ewing Hall. Each class will include a food preparation demonstration, recipe review and lunch with Family and Consumer Sciences Assistant Professor Dr. Virginia Webb.
The first class, Brunch with a Flair!, is on Oct. 11. Dr. Webb uses brunch to make the most of breakfast and lunch and will show you how brunches are great for small groups or large crowds. The lunch and learn session will feature sample brunch foods, recipes and decorating ideas.
"Brunch lets us take our favorite foods from breakfast and lunch to make a fun, non-traditional meal," said Webb.
The class, Holiday Goodies, will take place on Nov. 8 and will provide instructions for hosting a goodie exchange, ideas for holiday foods for special events, demonstrations and recipes for selected holiday treats. Dr. Webb will also offer useful tips for small equipment and techniques to use in preparing holiday goods.
Each class is $20 for one participant or $35 for a couple. Pre-registration is required by the Wednesday before each class. To register or find more details, please contact Continuing Education at 662-846-4833 or email con-ed@deltastate.edu