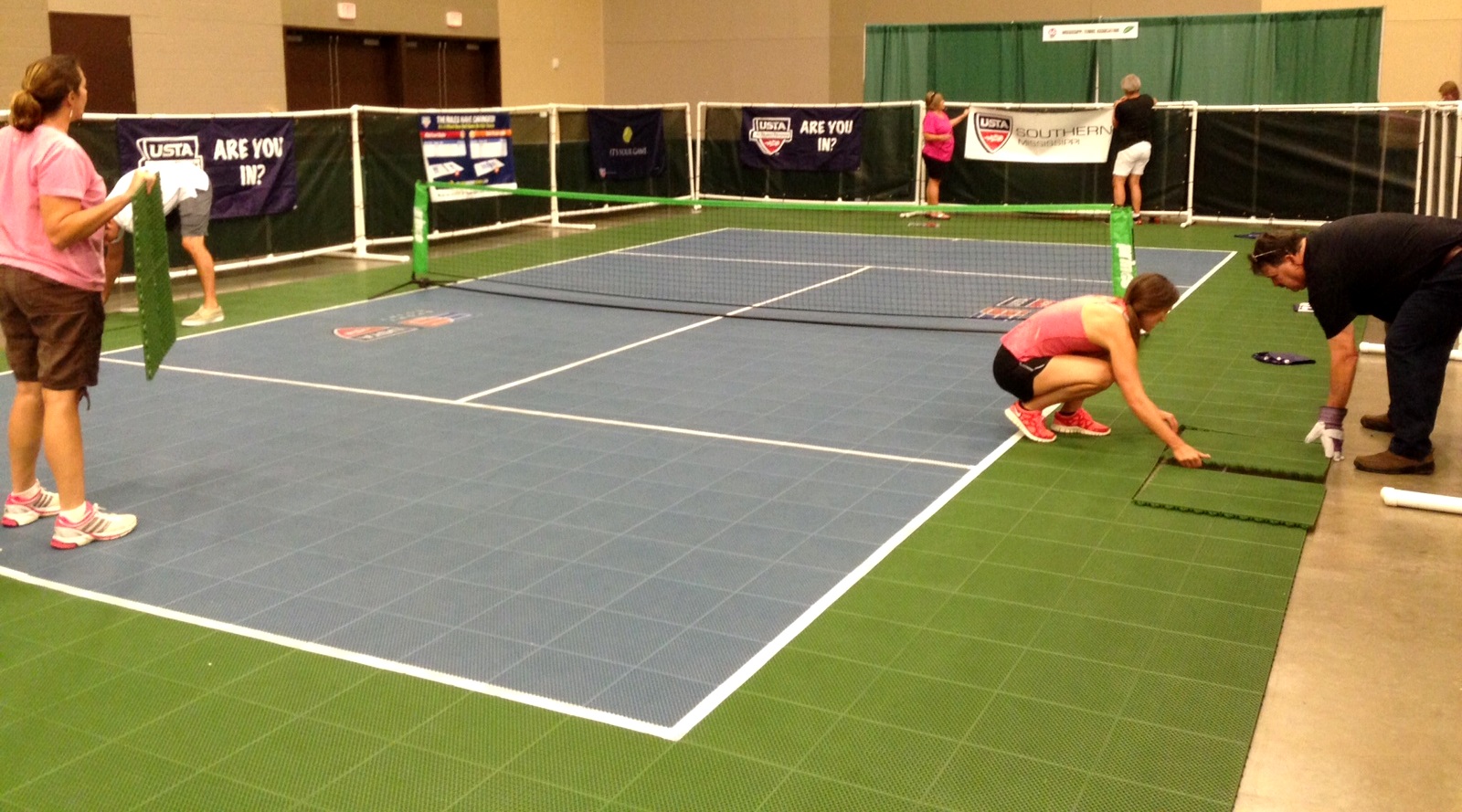 What do a tennis court and a football game have in common? On Saturday, Sept. 28 at Delta State University, folks will find out.
Our Sport Court, sponsored by the United States Tennis Association and USTA Mississippi, is traveling to the Delta to be part of the first Statesmen home football game and the 28th annual Pig Pickin' Barbeque competition.
"This is one of our largest events on campus and we are thrilled to have USTA Mississippi bring Sport Court to Delta State," said Jeffrey Farris, director of Delta State Alumni Affairs. "We have a great lineup for our Pig Pickin' weekend — BBQ competition, live entertainment, 22nd annual Delta State Triathlon, Delta Down and Dirty Challenge Run, DSU Day and DSU Band Day — and now we get to add tennis to the list."
The court, to be set up on site at Statesmen Park, promises to bring fun from 1-5 p.m. on game day, as all ages are invited to play. USTA volunteers will be available for instruction, but the main purpose is for everyone to take part in a friendly environment for tennis awareness.
The crowd will able to watch an exhibition match featuring university dignitaries, and the Delta State tennis team will also be on hand so everyone can enjoy the court for open for play.
"USTA Mississippi is the Mississippi section of the United States Tennis Association. That's a huge organization nationwide, and to land the Sport Court at DSU first is a huge coup," said John Cox, president of USTA Mississippi.
"We are very proud of our Mississippi group and we are proud that as of August 30, we had 11,522 paid members in Mississippi alone, and our website had garnered almost 30,000 visits and 46,000 page views in August," added Cox. "That's not counting our social media pages.
"I'm personally very excited about this program and can't wait to see the children playing on the court."
Stop by the Sport Court from 1-5 p.m. to join the Pig Pickin' fun, then head to Parker Field-McCool Stadium and watch the Statesmen take on Florida Institute of Technology.
Learn more about USTA Mississippi at www.mstennis.com or www.facebook.com/USTAMississippi.
For additional information on the 28th annual Pig Pickin', contact the DSU Alumni Association at 662-846-4660 or email alumni@deltastate.edu.