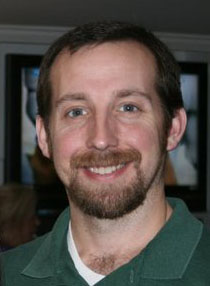 The Tom Burnham Scholarship for the 2013-14 academic year has been awarded to Delta State student Ryan Curry. Currently enrolled in the Educational Specialist (Ed. S.) program, Curry received undergraduate degrees in psychology and art from the University of Southern Mississippi (USM), making him the first person in his family to earn a college degree.
Curry also received a Master of Education degree in Art Education from USM and taught Art in Vicksburg, at Copiah-Lincoln Community College, and in the Natchez-Adams School District. He currently teaches in the Tupelo Public School District.
Curry became interested in school administration in the spring of 2006 while serving as grant coordinator for the 21st Century Community Learning Center in the Tupelo Schools. He joined the Ed. S. program in Educational Administration and Supervision and became part of a cohort in that field funded by the Tri State Foundation in Iuka, Miss.
Dr. Terry Harbin, coordinator of the Ed. S. program in Educational Administration and Supervision, said that Curry is one of the best and most capable students he has ever taught and that he has tremendous potential to be an effective public school administrator.
Curry's administrative experience and organization participation includes Tupelo School District's Superintendent's Teacher Advisory Committee, the Principal's Advisory Committee, the Tupelo Juvenile Detention Center, Lee County Library, the Salvation Army, Gumtree Museum and the Traceway Retirement Center.
The Tom Burnham Scholarship was established by Mr. Mike Newman, a prominent Mississippi Educator, to honor Dr. Tom Burnham.  Both Mr. Neyman and Dr. Burnham are graduates of Delta State University.
Dr. Joe Garrison, chair of the Division of Division of Teacher Education, Leadership, and Research in the College of Education and Human Sciences said, "The establishment of the scholarship is typical of Dr. Burnham's commitment to further the quality education of school leaders and to the continued endorsement of the high standards set by the College of Education and Human Sciences at Delta State University under the leadership of its Dean, Dr. Leslie Griffin."
The Ed. S. program in Educational Administration and Supervision at Delta State is designed to accommodate the working educator and provides flexibility for all candidates. The 36 hour program is offered fully online. For more information, visit www.deltastate.edu or call 662-846-4370.