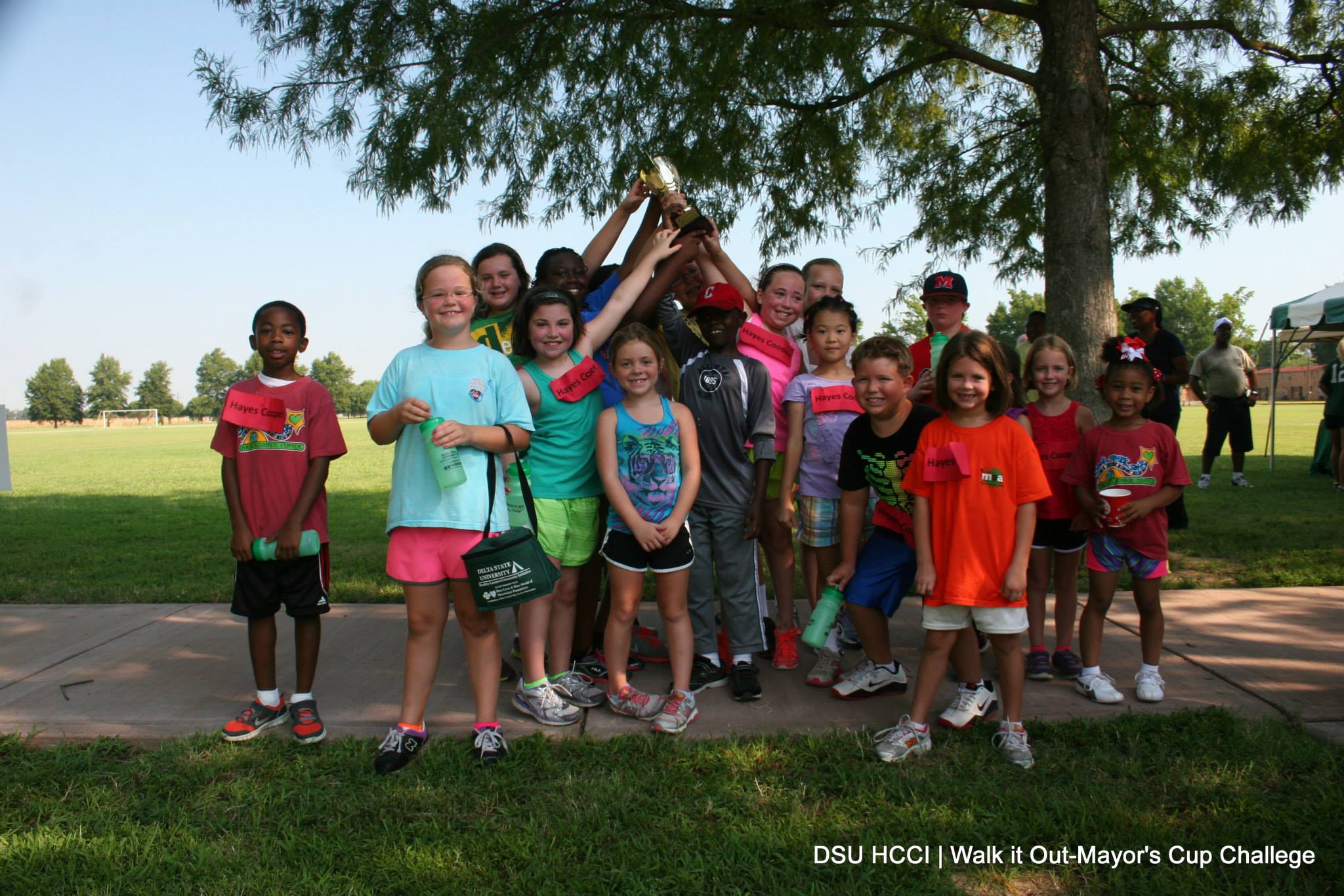 The Walk It Out Cleveland program, part of the Healthy Campus/Community Initiative (HCCI), sponsored the inaugural "Walk It Out: Mayor's Cup Challenge" between the Cleveland School District elementary schools at the Delta State Fitness Trail on Sept. 7.
As the warm Mississippi sun rose, 53 elementary students and 63 friends, family, and faculty/staff showed up bright-eyed and eager to walk and jog laps around the half-mile fitness trail.
To kick off the event, the large group of participants and volunteers began with a warm-up and stretch led by Todd Davis, DSU Recreation Leadership program director. Members of the HCCI Student Team, the entire DSU women's soccer team and Lenny's Sub Shop all volunteered to make this effort possible.
Hayes Cooper Center captured the Mayor's Cup by accumulating a total of 317 points during the one-hour challenge. Student laps were counted as two points and supporting participants' laps counted as one point.
Mayor Billy Nowell will present the Mayor's Cup trophy in person to Hayes Cooper Center. Flatlanders Screenprinting of Cleveland donated the coveted trophy for this annual event.
"The whole idea behind the Mayor's Cup was to use his presence within the community to promote physical activity," said Matt Dalrymple, physical education teaching program coordinator at Delta State. "Mayor Nowell is a great proponent for physical activity and physical education. His voice enabled us to do big things within the Delta State and Cleveland Community."
"My family really enjoyed the event this Saturday," added Lacey S. Fitts, science education program coordinator at the university. "I brought five girls with me and between us we walked/ran 30 laps. It was a great morning to get outside with other families and be cheered on by the women's soccer team.
"My nine-year-old daughter did eight laps and was lucky to win one of the door prizes. She is looking forward to picking out some new tennis shoes at Allan's. We are using Saturday's event as a kick-start to get in shape and get healthier, and they are all looking forward to the Down & Dirty kids' race at Pig Pickin'."
Amy Korb, Student Relations assistant at Delta State, added "My kids and I had a great time. My daughter, a fifth-grader at Hayes Cooper, loved the 'school challenge' aspect. It took a little coaxing to get her up and moving on a Saturday morning, but when I told her that her school could win a trophy, she was all in."
Along with the mayor's challenge each fall, HCCI is also supportive of "Saturdays in the Park: Mayor's Cup Challenge," where local schools compete in field day events. Last spring's winning school was Bell Academy.
HCCI is funded by the Blue Cross & Blue Shield of Mississippi Foundation and operates under Delta State's College of Education and Human Sciences. HCCI offers additional programs including fitness classes, health fairs, O.K.R.A. Camp, Court Street to Cleveland and educational events and material.
The next youth event is the Delta Down & Dirty, a youth obstacle challenge on Saturday, Sept. 28. Registration for this event is online at dsuop.deltastate.edu. All youth, 6-14 years old, are eligible to participate. Over 100 volunteers are needed for this event. For information, contact Todd Davis at 662.846.4555.
The Delta State Fitness Trail is a half-mile course that was completed in 2009. In a recent upgrade, fitness stations were added to offer a convenient variety of exercises. The well-lit trail is open 24 hours a day to the public, helping to promote health and fitness throughout the Delta State and Cleveland communities.
For more information on HCCI or the fitness trail, contact Krista Davis at 662-846-4567 or kadavis@deltastate.edu.