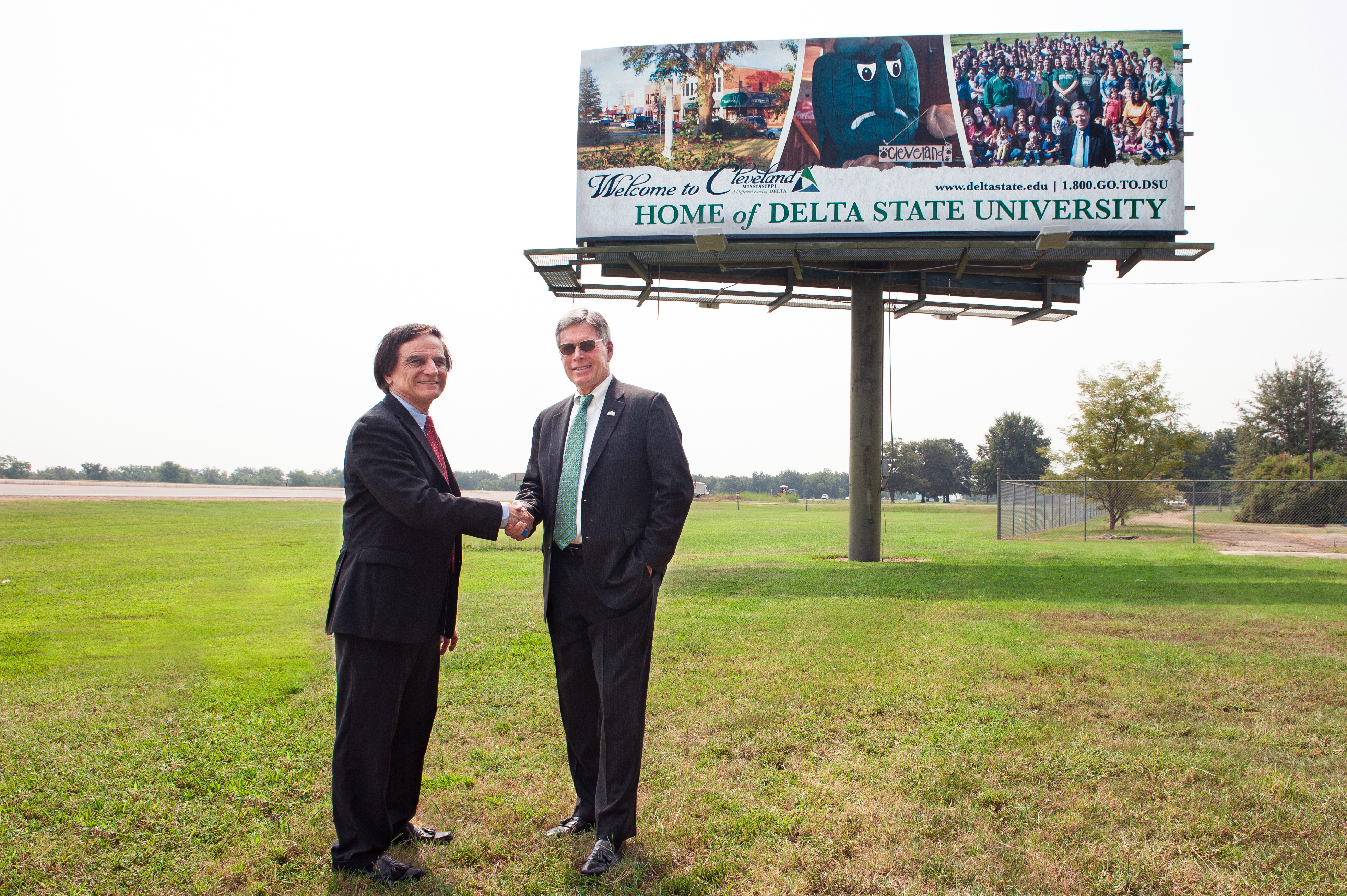 With his mission to continuously serve Delta State University, Dr. James Robinson in the history department never stops brainstorming ways to boost the green and white.
Robinson, who graduated from the university in 1966, has been teaching history since Dr. William F. LaForge, father of current president William N. LaForge, hired him in 1969.
Through the years, Robinson has dedicated his time to bettering the department, which is housed in Jobe Hall, along with countless other campus improvement efforts.
When President LaForge took office last April, Robinson, who is semi-retired, began suggesting new ideas for Delta State retirees to get involved.
"I thought we could make better use of our retirees to help the president and help around campus," said Robinson.
Thus came the formation of the Dedicated Statesmen Association, a group consisting of dozens of highly-motivated retired faculty and staff who want to promote their beloved Statesmen's and Fighting Okra's home.
"This is just payback — I owe him (LaForge) and his father big time," said Robinson. "You can also just see the president's love for our school. He is so enthusiastic about it and he has rejuvenated this whole campus."
The Dedicated Statesmen's mission is to uphold the university's values and keep retired staff, faculty, alumni, and all lovers of green and white involved, encouraged and informed on activities and future endeavors of the campus, in addition to athletic events and performances at the Bologna Performing Art Center.
The group will be holding its first full scale meeting within the next couple weeks, and Robinson said everyone would eventually be welcomed to participate in the association, not just retirees.
"We need everyone's help we can get," he said. "We've already had a lot of help from First Lady Nancy LaForge, who's been an inspiration to all of us. You can tell that she's going to continue to be proactive and visible."
One of Robinson's most recent contributions, out of his own pocket, was a university billboard welcoming traffic into Cleveland along U.S. Highway 61 in Merigold.
"When the president first came back to the area he noticed that Delta State didn't have as many billboards as the other Mississippi universities," said Robinson. "I decided to personally donate the funds and hopefully it will help with our exposure.
"Hopefully more people will want to donate and we can get even more billboards. We definitely need them."
President LaForge has expressed extreme gratitude for the billboard and all of Robinson's donations.
"Beyond sweat equity, James has been putting his own money into different university functions for years," said LaForge. "His donation of the billboard goes way beyond the call of duty and I'm very appreciative. It was a wonderful gesture on his part.
"He has always had an eye for improving Delta State, and because of that, he is an absolute treasure."
LaForge also praised Robinson for his dedication to Jobe Hall. He has spent endless hours remodeling and decorating the interior, along with assisting with the establishment of the Delta State Veteran's Atrium. His efforts have helped turn Jobe's setup into one of the most beautiful buildings on campus.
He is currently guiding the remodeling of a communal kitchen on the first floor and is in talks with Facilities Management to beautify the landscape around Jobe.
"He has been a wonderful support and assisted on so many occasions," said LaForge. "He made arrangements and preparations at Jobe not only for our first Colloquia speaker Gov. William Winter, but also for the interviews and listening sessions I had before I was president. James has taken ownership of Jobe and done a phenomenal job for years."
Robinson has also been in communication with the First Lady about sprucing up learning spaces at Delta State.
"Nancy and I have been talking about a program called 'One Classroom at a Time,'" he said. "We want to figure out how much it would cost different groups around campus to fundraise for remodeling and improving classrooms. A plaque would go up in each room indicating which group helped."
As Robinson never seems to slow down, he remains excited about the wave of positivity at Delta State and he'll continue to do whatever it takes to improve the university so near and dear to his heart.
"It's a labor of love for him — everything he does for Delta Date," said LaForge. "He always comes back and keeps giving and giving. We love the fact that he's always here for Delta State."