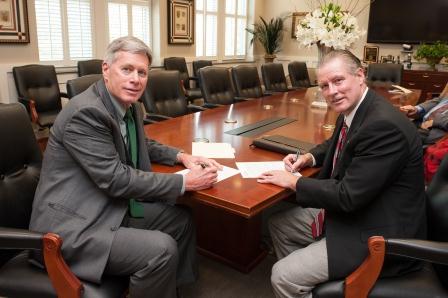 Officials from Delta State University and Holmes Community College recently signed 2 Plus 2 partnership agreements to deliver both the undergraduate elementary education and psychology degrees seamlessly. Through distance mediums, students will be able to finish their Delta State University bachelor's degrees without traveling to campus.
HCC and Delta State officials have collaborated to assume ownership of roles that will ensure that students receive full services without disruption throughout this process. Advisement is key to this platform and the partnership will afford a comprehensive approach to working with students through planning, registration and degree completion.
The agreement goes into effect during the fall 2013 semester.
"It is a wonderful opportunity for Holmes Community College and Delta State to collaborate on our academic offerings," said President William N. LaForge. "This partnership is a win-win for both institutions and especially for our students."
Dr. Glenn Boyce, President of HCC, is also thrilled to institute the arrangement.
"We are excited for our students as the 2 Plus 2 agreement between Holmes and Delta State will provide students with a seamless transition between the two schools," said Boyce. "This is a great step to further relations between the institutions and we are looking forward to developing more of these agreements in the near future.
"We should be doing everything possible to ensure that our students reach the finish line, and seamless articulation is one of the most important services we can provide students."

Dr. Leslie Griffin, Dean of Delta State's College of Education and Human Sciences, has helped establish prior 2 Plus 2 programs with Holmes. She said the conglomeration is critical for helping students complete their education.
"We have a longstanding and close relationship with Holmes Community College and have always enjoyed working together to ensure the most tightly coupled programs for students," said Griffin. "It is essential and important to faculty and counselors at both institutions that students do not fall through the cracks. This enhanced partnership will only strengthen the process."
For more information about the elementary education program, contact Dr. Joe Garrison, chair, Division of Teacher Education, Leadership and Research, at 662-846-4370 or via e-mail at jgarrisn@deltastate.edu.
For additional information about the psychology program, contact Dr. Sally Zengaro, interim chair, Division of Counselor Education and Psychology, at 662-846-4357 or via e-mail at szengaro@deltastate.edu.