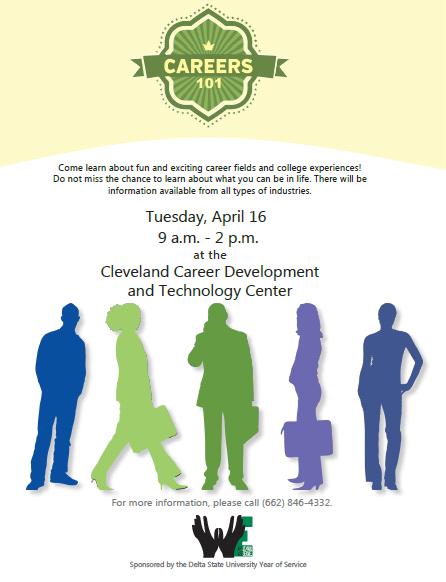 Delta State University's Year of Service will host a career fair in the community on Tuesday, April 16, from 9 a.m. to 2 p.m. The event, Careers 101, will be held at the Cleveland Career Development and Technology Center.
Volunteers are expecting about 250 high school students from the Cleveland School District. There will be representatives from numerous industries including science, technology, medicine, law enforcement, education, business, the arts, hospitality, management, and much more. Students will have the opportunity to find out more information on career options and industries. Each attendee will receive a bag from AmeriCorps*VISTA and information or promotional material from each career representative.
"The planning team is excited about Careers 101," said Linda Stringfellow, director of AmeriCorps*VISTA at Delta State and planning team committee chair. "This is a great opportunity for students in the local school district to get an introduction to a career they may be interested and to also see how DSU can help in their career path."
Delta State's Year of Service is dedicated to recognizing existing efforts and providing additional service opportunities by the University as well recognizing service to the University. Areas of service include service learning, community service, cultural connections, and new media. Careers 101 was coordinated through the community projects committee in collaboration with the Cleveland Career Development and Technology Center.
"The event is taking place at the perfect time, a month before students end the semester and while some graduates are deciding where they will attend college. With the support of campus departments, local/regional/state agencies, and national service programs, we are expecting Careers 101 to be a huge success with the students," said Stringfellow.
For more information on the event, please call (662) 846-4011.