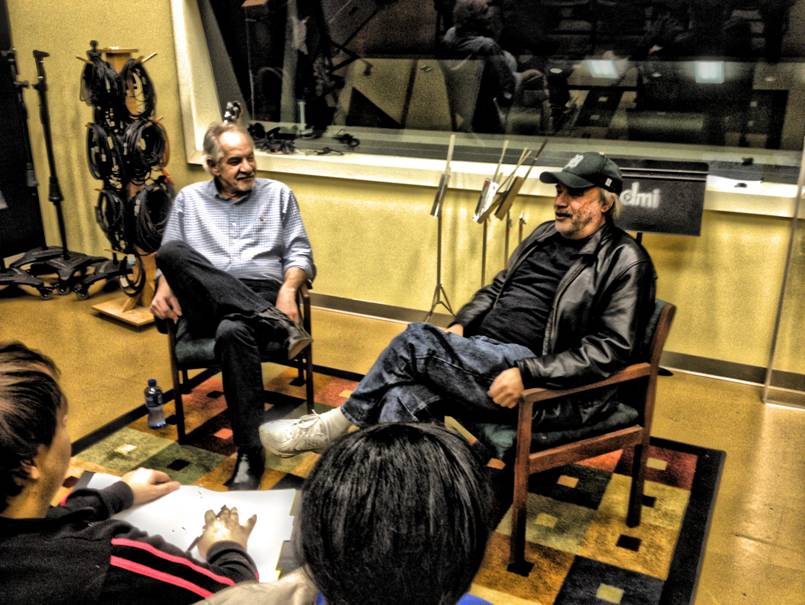 The Delta Music Institute at Delta State University hosted former artist manager and concert promoter Paul Abraham as part of the DMI All Access series on Tuesday, February 26. DMI students and other attendees visited with Abraham in Studio B of the DMI on the Delta State campus.

Paul Abraham is the first cousin of DMI Instructor of Music Industry Studies Charles Abraham. Charles Abraham stated that they both grew up in Leland and were born in the same year. He also noted that they both attended high school in the Leland School District and even started a band their sophomore year in high school that lasted for three years. After graduating from high school, the Abraham cousins parted ways.

"The strange fact of the matter is that after we graduated from high school we actually didn't see each other for 40 years. We talked a couple of times if a family member died or something like that. We literally did not see each other for 40 years and now strangely, 40 something years later, we both are living in the same town again and it happened to be this one."

Paul Abraham worked as a road manager for rock legends Lynyrd Skynyrd. He also was road manager for acts such as The Marshall Tucker Band, Barefoot Servants, Fabulous Thunderbirds, Paul Rodgers, and Bad Company.

"My brother and I had visited Atlanta and heard about this group called Lynyrd Skynyrd and I was just blown away by their music," said Abraham. "I came back and told my brother we could probably book these guys somewhere and make a few dollars off of them because they are up and coming. It was shortly after 'Sweet Home Alabama' was released. It was right at the very beginning of their uprising. The first place we brought Lynyrd Skynyrd is right here to Cleveland at the Bolivar County Expo Center. We had a great show."

After 10 years of working as a road manager, Abraham decided to switch over to country music as a promoter. He worked with Michael Peterson for one year and 12 years with Billy Ray Cyrus and has promoted multiple concerts in Mississippi and Colorado.

"I decided to go into country music. I went to work with an artist named Michael Peterson. We had one bus and we pulled a trailer, coming from Skynyrd who had 10 buses and 45-50 odd people that I had to coral. Michael had a couple of hits that were pretty major. One was called 'Drink, Swear, Steal, and Lie,' which was a really cool country song. Then he had one that was kind of a wedding anthem called 'From Here to Eternity.' We did a lot of pretty decent shows," said Abraham.

DMI All Access is a series of open forums and lectures throughout the academic year featuring industry professionals from various areas of the music business. For more information about the next DMI All Access event, contact DMI Director Tricia Walker at 662-846-4579.