Delta Center provides heritage tour for the Colorado Springs School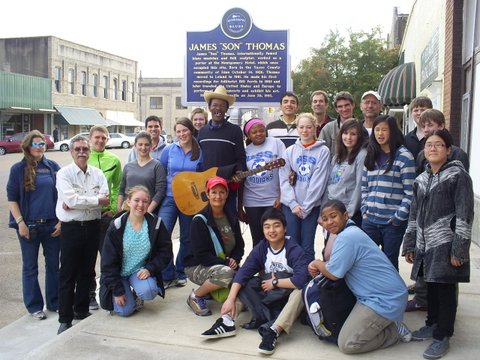 The Delta Center for Culture and Learning at Delta State University recently provided a heritage tour for the Colorado Springs School, a private elementary and high school. The tour was part of a lengthy "Blues and Jazz Experiential Seminar" that began in New Orleans, traveled through the Delta to Memphis, and went on to St. Louis.
During their stay, the group visited Dockery Farms, the grave of Mrs. Fannie Lou Hamer, Mound Bayou, the Bryant store in Money, Mississippi, Robert Johnson's grave site, Moorhead, Mississippi "where the Southern crosses the Dog," the B.B. King Museum, the Highway 61 Blues Museum, and the Kermit the Frog interpretive center. They also enjoyed a night of live Blues at Po' Monkey's Lounge, featuring The All Night Long Blues Band, with Sean "Bad" Apple, Martin "Big Boy" Grant, and Dixie Street, and were impressed by the music of Pat Thomas, who performed at the Highway 61 Blues Museum. While here, the group ate at The Senator's Place, Lost Pizza, Fat Baby's Catfish House, the Blue Biscuit (Indianola) and Airport Grocery.