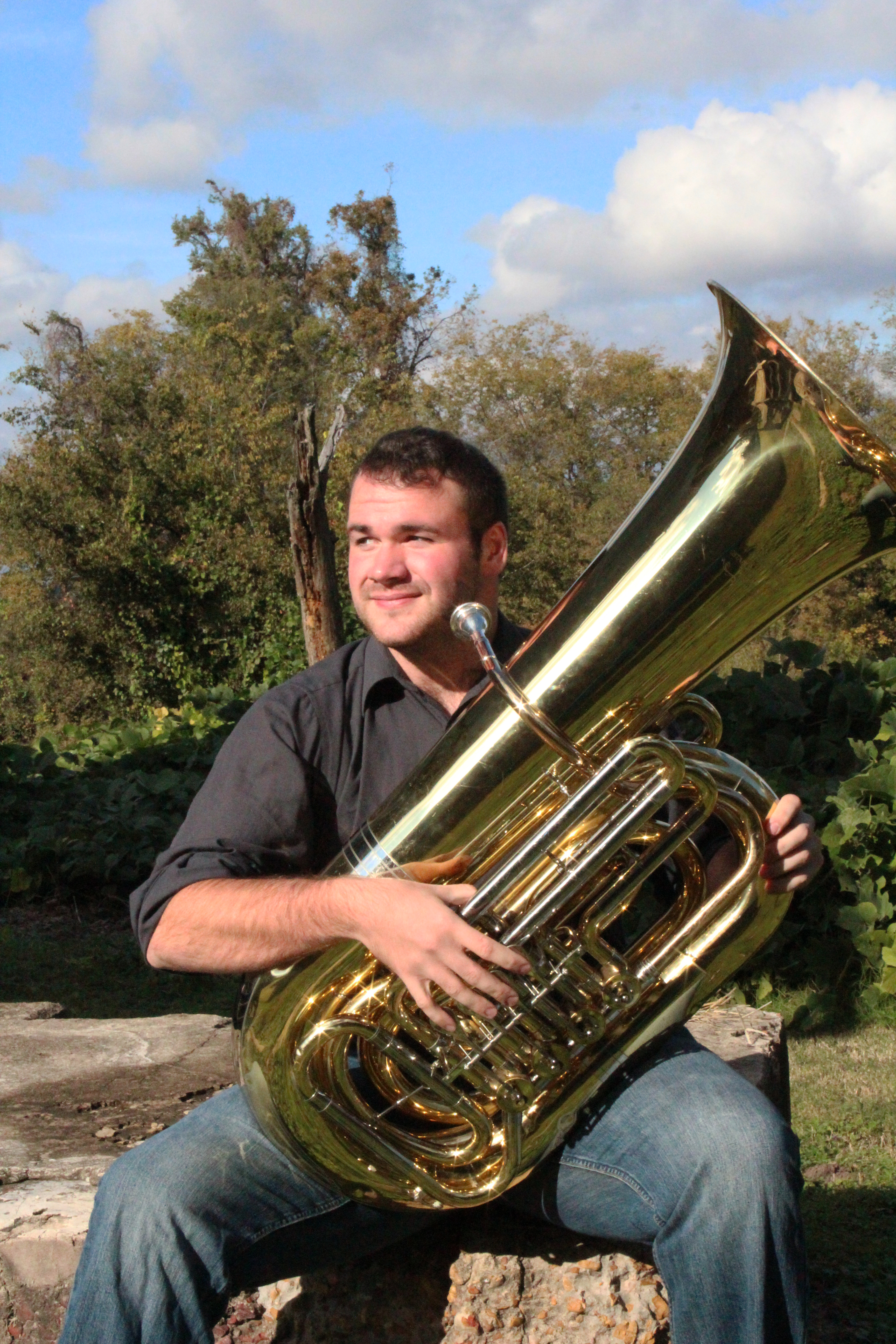 The Delta State University Department of Music will present Josiah Andrews in his senior tuba recital on Thursday, March 28, at 1:40 p.m. in the Recital Hall of the Bologna Performing Arts Center. The recital is free and open to the public.
Josiah Andrews, a senior music education major from Summit, is the son of Virginia Carraway and Stephen Andrews. He studies with Dr. Douglas Mark, Assistant Professor of Low Brass at Delta State University.
Since entering Delta State University in 2009, he has been involved and has performed with the Delta State University Wind Ensemble, Marching Band, Low Brass Ensemble, Oc-Tuba-Fest Group, Holiday Brass, Delta Singers, Chorale, Wednesday Night Steel Pans, and the Jazz Band.
Andrews began his musical studies at North Pike High School in 2002 as a part of the band program. His starter instrument was the coronet, but was asked to switch to tuba a week before school ended that spring semester. He learned how to play the tuba in a week to catch up with the rest of the beginner band students and was able to perform on the group's first concert. He then joined the high school band that next year and participated in various activities, including performances in San Antonio, TX, Pidgeon Forge, TN, and Orlando, FL.
At Delta State University, Andrews has received the following awards and scholarships: Band Scholarship, Chorale Scholarship, Academic Scholarship, Jeff Ross Capwell Scholarship, Dean's List, Director's Award, "Most Spirit" Award, and "Most Outstanding" Award.
Andrews has competed in several competitions. He has competed in Music Teachers National Association's (MTNA) Young Artist category and won the state division. He then traveled to Greensboro, NC to compete in the Southern Regional division. Also, he has competed in Mississippi Music Teachers Association (MMTA) where he won Honorary Mention in 2011 and first place in 2010. Andrews also shared the title of second place in Delta State University's Ensemble Competition in 2012 with Jessica Egdorf in a piccolo and sousaphone duet.
Andrews is a member of Phi Mu Alpha Sinfonia, National Association of Music Education, and is a "Bubba" of Mu Phi Epsilon. He will be performing compositions by Bach, Vaughan Williams, Lebedev, and Abreu.
The Department of Music at Delta State University offers undergraduate degrees in liberal arts, music education, and music performance. The department accepts donations through the Delta State University Foundation to support scholarships, student events and projects, and purchase of instructional materials. For more information on degrees or making a contribution, call the Music Office at 662-846-4615, or send email to music@deltastate.edu.