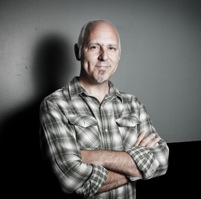 The Delta Music Institute, Delta State University's music industry studies program, will present OnStage Success, a one day workshop on developing stage performance skills using the Tom Jackson Live Music Method. The workshop will be held on Saturday, February 2, from 9:30 a.m. – 4:30 p.m. in Studio A of the Delta Music Institute in the Whitfield Building on the campus.
Topics covered in the workshop include: overcoming stage fright, stage movement, selecting the correct songs and the correct order, and turning a group of songs into a captivating live show. Practical information and techniques that will benefit all performers working to develop a loyal audience will be taught. Additionally, one or two local artists/bands will be chosen to work through onstage issues in a hands-on mini-makeover during the workshop.
The OnStage Success Workshop facilitator will be Lang Bliss. Bliss first honed his onstage skills while touring the US and Australia, doing an average of 500 shows per year over a four-year time span, as well as having toured with major artists for over 20 years. As a trained and certified Live Music Producer for Tom Jackson's Onstage Success, Lang Bliss will pass on knowledge, training, and experience to workshop participants. Bliss has worked as a drummer, producer, programmer, songwriter and arranger in the music industry with Michael W. Smith, Shaun Groves, Michael McDonald, and The Henningsens (recently signed to Sony Records Nashville) to name a few. Based in the Nashville area, Bliss travels internationally to work with artists and speak at music conferences.
Dove Award winner Francesca Battistelli remarked, "Working with Lang Bliss was a great experience. His instincts were spot on, and he shares his knowledge in such a helpful, creative way. I honestly can't imagine preparing for another tour without him!"
James Bryan, guitarist/songwriter for Nelly Furtado and Philosopher Kings, declared, "As a performing musician for over 15 years, I was surprised and blown away by how much I learned in just one session. It offers insight into every aspect of performance."
The Onstage Success Workshop is valued at $150 but will be offered by the Delta Music Institute at a substantial discount. Admission is free to Delta State students/faculty with a valid ID card. For others, tickets are $40 in advance and $50 at the door.
The Delta Music Institute is an independent center of study under the College of Arts & Sciences at Delta State University, offering a B.S. in Music Industry Studies degree. The focus of the DMI is to provide students with a broad and thorough education in the technological, creative, and business areas of the music and entertainment industry. For information on registration for the OnStage Success Workshop, contact the DMI office at (662) 846-4579 or dmi@deltastate.edu.