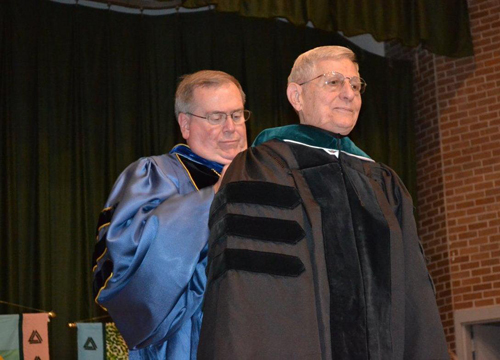 Retired State Senator and Delta State University alumnus Bob M. Dearing was bestowed with one of the university's highest honors – an honorary Doctor of Public Service degree, as nearly 400 Delta State University graduates received their degrees during the 2012 Fall Commencement held Saturday, December 15 in the Walter Sillers Coliseum.
A native of Natchez, Senator Dearing graduated from Natchez High School in 1953. He attended Delta State College from 1953 to 1957, serving as president of his freshman and sophomore classes, vice president of his junior class and the Student Government Association, and president of the Student Body. He played football for two years and baseball for three years, lettering in both sports. He graduated from Delta State in 1957 with a Bachelor of Science in Education degree and later earned a Master of Education degree from the University of Southern Mississippi. He was a member of the United States Army from 1958 to 1962, and served as a member of the Army National Guard from 1958 to 1966.
Senator Dearing began his professional career as a high school coach and teacher in Key West, Florida and later returned to his hometown of Natchez where he coached, taught, and was an elementary school principal. After leaving the teaching field, he became a sales representative with Science Research Associates and later retired with IBM. He is currently employed as an Insurance Agent with the AFLAC Insurance Company.
Elected to the Mississippi State Senate in 1979, Dearing served Mississippi for 31 years. He held the positions of Chairman of the Oil & Gas Committee, Municipalities Committee, Forestry Committee, Fees, Salaries and Administration Committee, Environmental Protection Committee, and the Highways and Transportation Committee. He has also served as Vice-Chairman on the Labor Committee, Corrections Committee, Wildlife, Fisheries and Parks Committee, Election Committee, and the PEER Committee. His energy, enthusiasm, and dedication to the State of Mississippi were shown by his years of service and the progress he helped Mississippi make.
Senator Dearing served as a board member on many organizations including the Natchez Festival of Music, the Margaret Martin Performing Arts Center, Energy Council, National Conference of Insurance Legislators, and the Natchez Tri-Centennial Committee.
A staunch Delta State University supporter, Senator Dearing secured state funds for general education and capital outlay programs at his alma mater. He has been instrumental in securing funds for the Delta State Athletic Program and the Health, Physical Education, and Recreation's Athletic Training Program. He served as past president of both the Alumni Association and the Athletic Alumni Association of and has been a member of the Delta State University Foundation Board. He was selected as the Outstanding Alumnus of the Year in 1997 and was inducted into the Delta State University Alumni Hall of Fame in 2007.
Senator Dearing is a member of the First Presbyterian Church where he has served as a deacon, an elder, Sunday school teacher, and a Sunday school superintendent. He has been married to Shelly Paige Ditzler since 1962. They have three children, Bo, Daye, and Paige.
Delta State University confers the honorary degree to individuals who have made significant and meritorious contributions to the university, higher education generally or other areas of society. Expected areas of achievement included, but are not limited to, outstanding creative and scholarly work, distinguished leadership or service, significant accomplishments or exceptional philanthropic support.
The honorary degree was unanimously approved by the Institutions of Higher Learning's Board of Trustees.