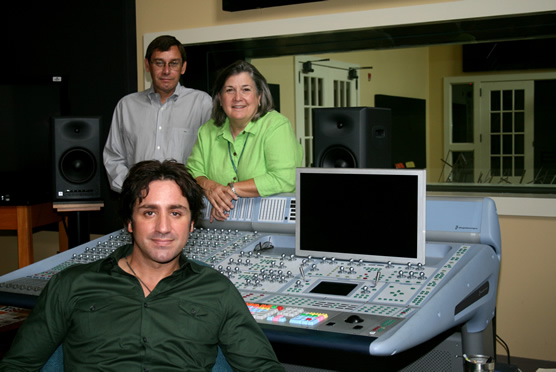 Award-winning songwriter and performer Steve Azar has returned to the Delta and his alma mater, as an artist-in-residence at Delta State University. Azar, who penned the hit song, "I Don't Have To Be Me 'Til Monday,' will work with the Delta Music Institute's music industry studies program and with the Entrepreneurship in Business Technology center in the College of Business at Delta State.

A Greenville native, Azar graduated from Delta State University in 1987 with a degree in business administration and went on to develop a successful career in the music industry as a singer, songwriter, producer, and publisher. As a writer, his hits include, "Waitin' On Joe," "Sunshine," and "Big Blue Sky." His biggest hit, "I Don't Have To Be Me 'Til Monday," was honored by BMI with the "Million- Air" Award. It has received almost 3 million spins on the radio since release, and has a total audience of almost two billion. His "Waitin' On Joe" video, featuring Morgan Freeman,was filmed in the Delta and nominated for CMA Video of the Year.

Azar was personally chosen by Bob Seger to open his 2007 U.S. tour, which was ranked by Pollstar Magazine the #1 tour in America that year. Steve also narrated and provided soundtrack music for Second Crossing: Mississippi's Landmark Bridge, a Mississippi PBS documentary about a key rebuilding effort for the Mississippi Delta region following Hurricane Katrina.

"Having Steve Azar working with the DMI and Delta State University will provide a unique opportunity for our students to have one on one contact with a successful music entrepreneur," says Tricia Walker, director of the Delta Music Institute. "Students will be able to interact on a regular basis with a music industry professional working in multiple areas of the business. That kind of experience will be invaluable to their education."

Azar's contributions to his Delta State residency will include master classes, student mentoring, recruiting efforts, performances, and promotional appearances. For more information on Steve Azar, visit www.steveazar.com.

"It's good to be back and give back to the place that gave me so much," said Azar. "Delta State was a launching pad for me and my career. I'm excited to be working with Tricia Walker, who I admire so much, and Cooper Johnson, who helped me lay the foundation for how I do business. "I'm looking forward to telling students what 'not' to do in the music business," Azar said with a smile.

Steve and his wife, Gwen, founded the St. Cecelia Foundation in 2006 to aid charitable organizations, particularly in the Delta region, that focus on education and the needs of disadvantaged children. Steve's family has resettled in the Mississippi Delta.

The Delta Music Institute is an independent center of study under the College of Arts & Sciences of Delta State University. Through the Bachelor of Science in Music Industry Studies degree, the focus of the DMI is to provide students with a broad and thorough education in the technological, creative, and business areas of the music and entertainment industry. For more information, contact the DMI at (662) 846-4579 or dmi.deltastate.edu.