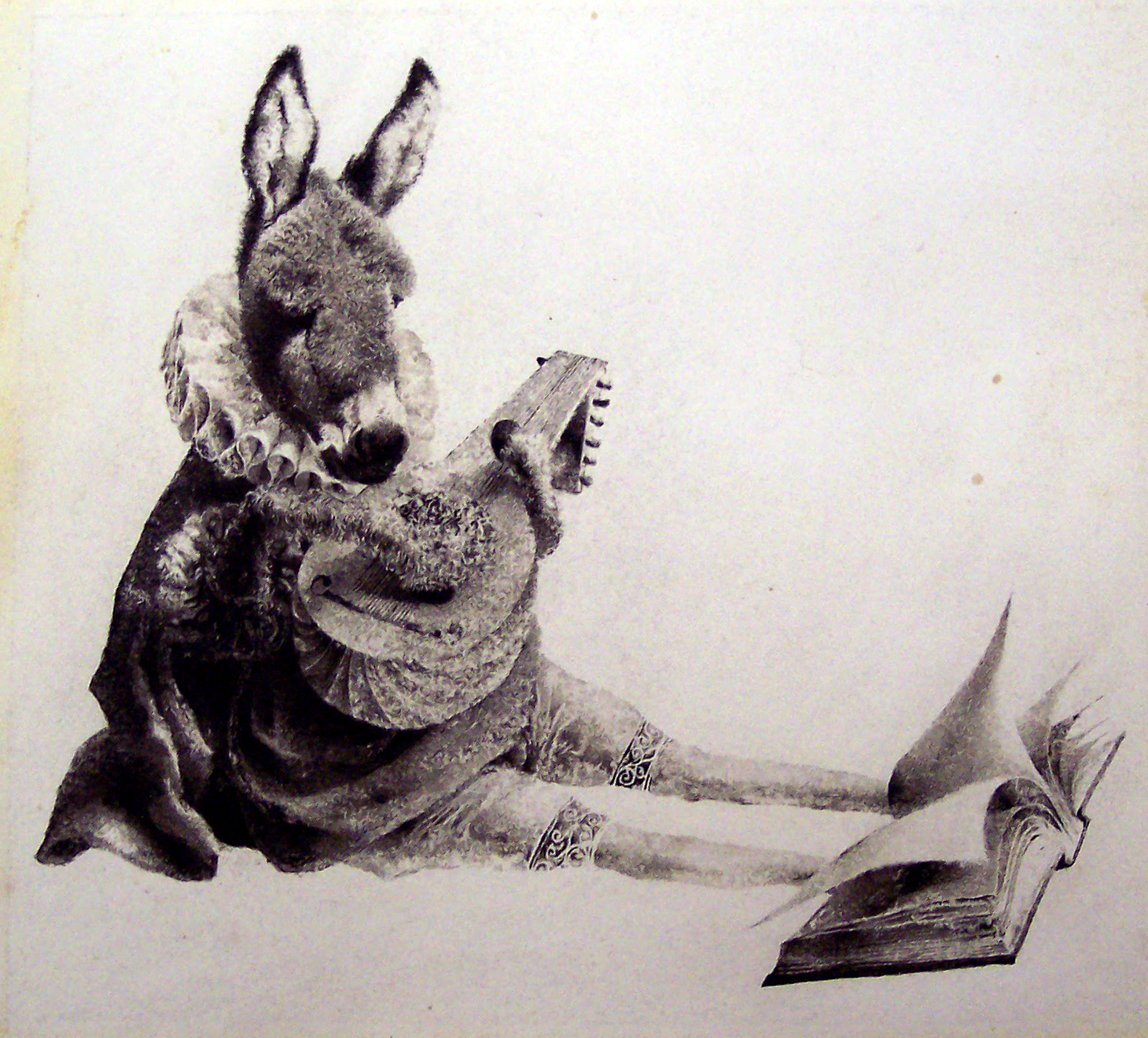 (1925-1982), Donkey and Mandolin, no date. ink on paper. Collection of Mississippi Museum of Art, Jackson. Gift of Nell Parker Downing. 1986.139.
This unique exhibition, taken from the Permanent Collection of the Mississippi Museum of Art (MMA), of children's book illustrations by Edgar Parker will stimulate the imagination of people of all ages.
A disheveled o'possum yacks to a wide-eyed, cigar smoking rooster. A jowly bulldog in pirate attire poses with his sword. These are just a few of the characters that inhabit the world of Edgar Parker (1925-1982) in "Drawn to Whimsy: The World of Edgar Parker," opening at the Wright Art Center Gallery at Delta State University February 28 through March 22.
Born in Meridian, Parker suffered in childhood from several illnesses which kept him from joining other children in athletic activities. He turned instead to reading, sketching and playing with animals. His early interests evolved into a career as the author and illustrator of numerous children's books.
Parker's career as an illustrator began in New York, where he turned often to the animals in the Brooklyn Zoo or to childhood memories of his pets for inspiration. Gifted also in literature, Parker wrote and illustrated seven books that were enjoyed by children and adults. His animal characters take on such convincing personalities, that the result is humorous and fantastical.
"Parker's creatures are playfully bizarre, as though the artist had constructed them from some mental grab-bag of animal parts. Like the weird creations of Maurice Sendak and Dr. Seuss, they delight children of all ages," said Daniel Piersol, Deputy Director for Programs for the MMA.
"Drawn to Whimsy: The World of Edgar Parker" is organized by the Mississippi Museum of Art and supported with funds provided by the Museum's statewide Traveling Exhibition Endowment, a fund made possible through significant private contributions matched by the National Endowment for the Arts, a federal agency, with additional funding provided by the Mississippi Arts Commission's Arts Reinvestment Initiative.
The Mississippi Museum of Art and its programs are sponsored in part by the city of Jackson and the Jackson Convention & Visitors Bureau. Support is also provided in part by funding from the Mississippi Arts Commission, a state agency, and in part by the National Endowment for the Arts, a federal agency.
For information about the Mississippi Museum of Art's hours, admission fees, exhibitions, and programs, call (601) 960.1515 or 1(866)VIEW ART, or visit their website at www.msmuseumart.org.
For more information about the exhibit, call The Delta State Art Department at (662) 846-4720.