---
1. Adding a Page
From the WordPress Dashboard, select Pages > Add New
---
2. Give Your Page a Title
Give the page a title and edit the permalink if you'd like the URL to be different than the page title.

---
3. Add Page Content
Enter your your pages content in the editor. You may also place media files in your content area by selecting the Add Media button. Read more about the media library here: WordPress Media Library Documentation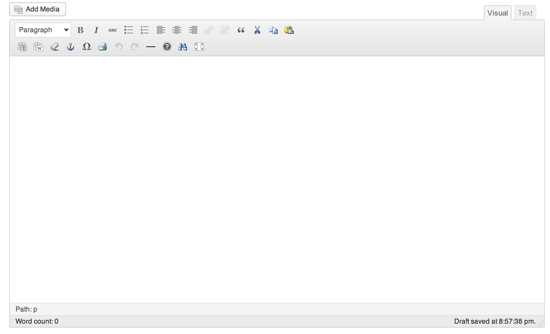 The content editor includes many standard WYSIWYG (What You See is What You Get) icons to help you style your content. Find out more about each of these icons and what they do.
---
4. Draft, Preview, or Publish Changes
The Publish panel is located on the right side of the page and can be used to:
Save Draft: Saving the page as a draft will allow you to come back and make edits later before you publish anything to the website.
Preview: A new window will open with the changes you've made in the editor to preview what they would look like on the website before you publish.
Publish: All changes made to the page will publish to the live website.