Thursday, Sept. 30th, 2021
Pre-conference concert – Shake & Holla: Shake & Holla: North Mississippi Allstars & ReBirth Brass, with special guest Cedric Burnside.
Shake & Holla showcases foot-stomping Mississippi "hill country" blues and the funky, syncopated sounds of New Orleans brass. The Grammy-nominated and Blues Music Award-winning North Mississippi Allstars will be joined by the legendary Rebirth Brass Band in a musical celebration of two great southern musical traditions. Appearing with them on this tour is blues guitarist, vocalist, and drummer Cedric Burnside, A Grammy- nominated artist in his own right, as well as the grandson of legendary Fat Possum recording artist RL Burnside.
Tickets are available at bolognapac.com or by calling (662) 846-4626.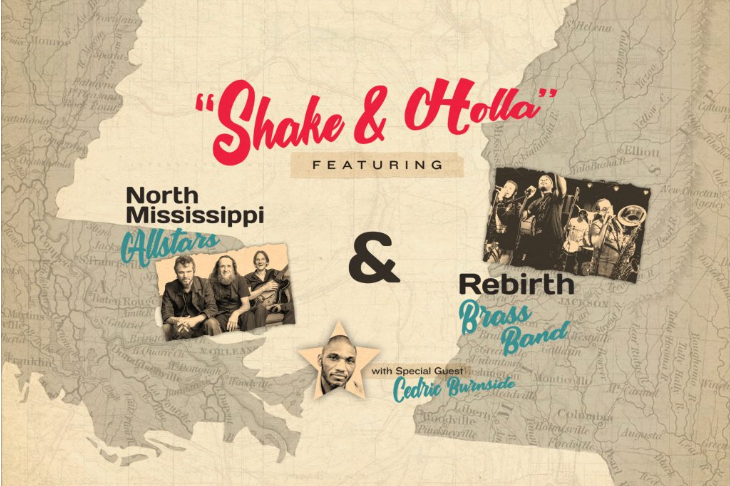 All events are virtual by way of the Whova App.
8:15 AM–3 PM
REGISTRATION | DMI Lobby
Registration is on your own mobile phone or other device. Please show your preregistration using the Whova app or register on-site using the QR code. Registration staff will be in the lobby to assist with the self-check-in process.
8:30 AM
OPENING SESSION | DMI Studio A
Welcome Remarks
Dr. Shelley Collins and Prof. Don Allan Mitchell, Co-Chairs
Dr. Rolando Herts, Director, The Delta Center
Greetings from President LaForge
9–9:45 AM
PERFORMANCE | DMI Studio A
Gospel & The Blues Tradition
Featuring ensembles from the Coahoma Community College Concert Choir
Dr. Kelvin Towers, Director
10:15–11:30 AM
PERFORMANCE | DMI Studio A
Jontavious Willis and the Gospel Tradition
Our keynote solo performer, Jontavious Willis, is a returning artist and a world class performer of the African American musical tradition. He returns to the Delta as a recent GRAMMY nominee, which he picked up for "Spectacular Class," his album of original blues.
12–12:50 PM
KEYNOTE | Virtual/Whova
(Streaming in Studio A)
Rev. Dr. Dwight Andrews
Professor of Music Theory & African American Music, Emory University
1–1:25 PM
KEYNOTE Q&A with Rev Dr. Dwight Andrews | Virtual/Whova
(Streaming in DMI 201)
1–1:50 PM
THE BUSINESS OF BLACK MUSIC | DMI Studio A
A Conversation with Annette Hollowell, Producer and Manager, Foxfire Ranch
1:25–1:50 PM
PRESENTATION: Composition | DMI 201
Suite for Charlottesville: Regarding the August 2017 "Unite the Right" Rally
Mr. Kris Monson, Charlottesville, Virginia
Monson's "Suite for Charlottesville" is a reflection on the white supremacist uprising in Charlottesville VA, presented via the great tradition of Black American Music.
2–2:50 PM
PAPER SESSION I | DMI 201
"All Rock 'n' Roll Had Sprung from This Root": The Big Bill Broonzy Film that Inspired Eric Clapton
Dr. Tom Zlabinger, York College/CUNY
In his autobiography, Eric Clapton described how watching Big Bill Broonzy on TV in 1956 changed his life. This presentation will discuss the film "Low Light and Blue Smoke" and Clapton's reaction.
A Century of "Crazy Blues":  Mamie Smith's Legendary 1920 Recording in Context
Dr. Tammy L. Turner, Murray State University
A historical and cultural context for understanding "Crazy Blues" through examination of essential earlier works, circumstances surrounding the recording, and its significance and influence.

2–2:50 PM
PAPER SESSION II | (Virtual/Whova)
Exploring the History & Legacy of Cotton in the Mississippi Delta
Prof. Christine Clark Zemla, Rutgers University
The growth of cotton in the U.S. created both great wealth and extreme poverty. This presentation will examine the settling of the land, the music and the legacy of cotton in the Mississippi Delta.
"Leave the Door Open" for "Blue Magic": Bruno Mars and Anderson .Paak's homage to TSOP
Dr. Brooke Joyce, Luther College
This presentation will trace the lineage of Bruno Mars and Anderson .Paak's hit song, "Leave the Door Open," to the 1970s hit "Sideshow," with special attention paid to harmony and orchestration.
3–3:50 PM
PAPER SESSION III | DMI 201
Blues Music and Generation Z
Dr. Ron Pimentel, Washington State University Vancouver
This study shows a low level of awareness and involvement in blues music by members of Generation Z (13-26). Recommendations are presented for increasing youth involvement with the blues.
Music and the Rule of Law: The Blues's legacy in legal reform augurs a future role for Hip-Hop
Prof. David Pimentel, University of Idaho College of Law
The Blues reflects a lament of Black America over denials of justice. Hip-Hop music is doing the same in the 21st century. As the music (and the message) reach white audiences, it becomes a vehicle for change in legal institutions.
3–3:50 PM
PAPER SESSION IV | Virtual/Whova
August Wilson's Blues
Prof. Don Allan Mitchell, Delta State University
An interview with Pulitzer Prize-winning playwright Rev. Dr. Dwight Andrews as August Wilson's music director at Yale Repertory Theatre and on Broadway.
Muddy Waters: Icon of New Urban African American Identity and Father of Modern Rock Guitar
Mr. David Cosby, Boston University/Besant Hill School
Muddy Waters changed the very sound of the blues and the electric guitar with his seminal recordings of 1955. Equally important was Water's influence upon the growing modern Civil Rights movement.
4–4:50 PM
PAPER SESSION V | Virtual/Whova
Lomax was Wrong: Recognizing Native American Roots in the Blues
Mr. Jimi Del Duca, Montana State University-Bozeman
Del Duca's research reveals foundational connections between Native American music and the blues. Native America has contributed significant and vital stylistic elements as well as performers to the blues.
Becoming Beale: The Transformation of Beale Street from a Neighborhood to a Tourist Attraction
Dr. Lydia Warren, University of Virginia
This presentation focuses on how urban renewal, slum clearance, and national preservation policies were used by city leaders in Memphis to remove a community from Beale in the name of historical preservation, cultural heritage, and tourism.
4:50–5 PM
CLOSING SESSION AND FAREWELL | Whova