Zakiya Hooker, daughter of John Lee Hooker, performs at the 2017 conference.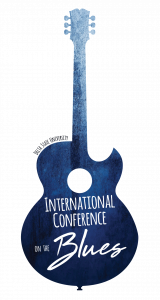 Welcome to the eighth annual International Conference on the Blues, a celebration of the art form through scholarly activity, discourse, and music! It will take place on Friday, October 1, 2021, at Delta State University in Cleveland, Mississippi, in the heart of the Mississippi Delta, recognized as the birthplace of American music.
Festivities kick off with a pre-conference concert at 7:30 PM Thursday, September 30th, 2021, with a crowd-pleasing performance at the Bologna Performing Arts Center on the DSU campus. Purchase tickets by calling the box office at (662) 846-4626 or visit the Bologna Performing Arts Center website.
The conference begins Friday morning and continues until the early evening. The morning features performances connecting the Black gospel tradition to the blues, and the afternoon features academic presentations, all of which will be streamed and recorded for wide distribution. Topics include the blues; music of the African diaspora; Black musical traditions and influences on American music and culture; the influence of blues, gospel, spirituals, and soul music; Black music as protest and social commentary; and Black artists and the music industry.
Proposals will be accepted until July 1, 2021 and must be submitted via tinyurl.com/Blues2021.

Cleveland, Miss., recently named by Smithsonian magazine as #2 of the top 20 small cities to visit in the country, is located 45 minutes from the Greenville, Miss., Airport and two hours from the airports in Jackson, Miss., and Memphis, Tenn. Cleveland is the home of the GRAMMY Museum® Mississippi, located next door to the DSU campus.
For more information, contact co-chairs Don Allan Mitchell and Shelley Collins at blues@deltastate.edu.
Past Featured
Participants
2017 keynote performer Aaron Neville
Grammy Award-winning/nominated artists
Alvin Youngblood Hart, Trombone Shorty, and Dom Flemons
Blues scholars & educators
Elijah Wald, Bob Santelli, and Charles Reagan Wilson
Rising blues stars
Jontavious Willis, Christone "Kingfish" Ingram, and Marquise Knox
2017 keynote speaker Dr. John F. Szwed
The legacies of John Lee Hooker and Muddy Waters
Ties of the blues to psychedelic music and culture
The blues as a form of protest in East Germany
The blues and the revitalization of the Mississippi Delta
The legacy of Alan Lomax and his music archive