Choral Ensembles at Delta State University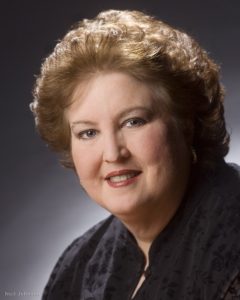 Julia Brasher Thorn, Director of Choral Activities
Mezzo-soprano, Julia Thorn, is a multifaceted musician with choral conducting, voice, and music education as areas of specialization. She is the recently appointed Director of Choral Activities at Delta State University. Dr. Thorn performs frequently as a guest conductor and is an active clinician and adjudicator. Choral ensembles under her direction have given critically acclaimed performances at national, divisional and state conferences of ACDA, NAfME, NCCO, the Spivey Hall Educational Concert Series, and are featured on recordings from Santa Barbara Music Publishers.
Before coming to Delta State, Dr. Thorn held the Cyril M. Stretansky Distinguished Professorship Chair in Choral Music and was Director of Choral Activities at Susquehanna University. She is currently Secretary of the Mississippi Chapter of the American Choral Directors Association, a member of the National Association for Music Education, the National Collegiate Choral Organization, Chorus America, the College Music Society, Pi Kappa Lambda and was nominated for Who's Who of America and Who's Who of American Teachers. In the summer of 2004, Dr. Thorn was selected as a conducting fellow for the Oregon Bach Festival with Maestro Helmuth Rilling and made her Carnegie Hall conducting debut on February 18, 2007. Dr. Thorn was honored as the Outstanding Teacher of the 2008-2009 academic year at Centenary College where she taught for fifteen years as Professor of Music.
Dr. Thorn holds B.M. and M.M. Degrees in Vocal Performance from Loyola University in New Orleans, and the D.M.A. Degree in Conducting from the University of Alabama. While pursuing the doctorate under the direction of Sandra Willetts, Dr. Thorn taught in the choral and music education departments at the University of Alabama and served as Director of Choral Activities at the University of West Alabama. During ten years of study at the Saratoga-Potsdam Choral Institute in New York, and as a member of the Atlanta Symphony Orchestra Chorus and Chamber Chorus, she trained under the batons of many of the world's finest conductors, including Robert Shaw, Brock McElheran and Eugene Ormandy.
---
Chorale
MUS 138/338/639
Conductor: Dr. Julia Thorn
Rehearsal times: MW 1:00-1:50 TR 12:30–1:30 pm
Rehearsal location: Zeigel Hall 107
The Delta Chorale is the premier touring vocal ensemble at DSU. Comprised of approximately 40 mixed voices, it performs frequently both on- and off-campus. Its repertoire features high-quality choral music from diverse styles, musical eras, languages, and cultures. Chorale has performed by invitation at state and regional conferences of the Mississippi Music Educators Association and American Choral Directors Association.
Chorale's Mission Statement
The Delta Chorale seeks to enrich the musical, educational, and cultural lives of our campus and our community through excellence in choral music performance. With diverse choral literature, we sing these truths:
When confronted by poverty, we sing that true wealth cannot be measured by dollars and cents.
When confronted by need, we sing that music belongs to everyone.
When confronted by racism, we sing that all people possess equal and inherent human worth.
When confronted by ignorance, we sing that artistic expression and opportunity lead to understanding.
When confronted by strife, we sing that peace is the better way.
When confronted by division, we sing and model unity in community despite our differences.
We are the Delta Chorale.
Membership is open to students from all academic majors across campus by competitive audition.
Delta State Chamber Singers
MUS 124/324
Conductor; Dr. Julia Thorn
Rehearsal times: MW 2:00–2:50 pm
Rehearsal location: Zeigel Hall 107
Chamber singers is a small and highly select auditioned performing vocal ensemble. This ensemble represents an extremely high level of independent musicianship, musicality and artistry based on experience and skill level.