Zakiya Hooker, daughter of John Lee Hooker, performs at the 2017 conference.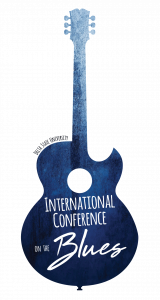 Delta State, through The Delta Center for Culture and Learning and the College of Arts and Sciences, was invited to participate in the Mississippi Delta Blues Festival (MDBF) Brazil Online Edition scheduled for Friday, November 20 – Sunday, November 22, 2020. The MDBF Brazil online festival was free and accessible to the public. The online festival was broadcasted on MDBF Brazil's official website: www.mdbf.com.br
Delta State's participation in the virtual festival served as the 7th installment of the International Conference on the Blues. The festival included performances from seven international locales including Holland, Australia, France, the United Kingdom, the United States, and Brazil.
The virtual presentation featured a Blues and gospel performance from Delta State alum (Delta Music Institute, College of Business) Keith "Prince of the Delta Blues" Johnson, great-nephew of Blues legend Muddy Waters. The presentation also includes highlights from past International Conference on the Blues events and from B.B. King Day at Mississippi Valley State University, a "Spirit of the Blues" project partner.
Operated in southeastern Brazil in the city of Caxias do Sul for over a decade, MDBF Brazil is considered the largest and longest-running Blues festival in South America. According to festival organizer Toyo Bagoso, MDBF Online Edition will offer an innovative way for global Blues fans to pay tribute to the Mississippi Delta, the birthplace of the Blues.
The International Conference on the Blues is scheduled to return to an in-person event at Delta State University in the fall of 2021.

Cleveland, Miss., recently named by Smithsonian magazine as #2 of the top 20 small cities to visit in the country, is located 45 minutes from the Greenville, Miss., Airport and two hours from the airports in Jackson, Miss., and Memphis, Tenn. Cleveland is the home of the GRAMMY Museum® Mississippi, located next door to the DSU campus.
For more information, contact co-chairs Don Allan Mitchell and Shelley Collins at blues@deltastate.edu.
Past Featured
Participants
2017 keynote performer Aaron Neville
Grammy Award-winning/nominated artists
Alvin Youngblood Hart, Trombone Shorty, and Dom Flemons
Blues scholars & educators
Elijah Wald, Bob Santelli, and Charles Reagan Wilson
Rising blues stars
Jontavious Willis, Christone "Kingfish" Ingram, and Marquise Knox
2017 keynote speaker Dr. John F. Szwed
The legacies of John Lee Hooker and Muddy Waters
Ties of the blues to psychedelic music and culture
The blues as a form of protest in East Germany
The blues and the revitalization of the Mississippi Delta
The legacy of Alan Lomax and his music archive