Delta State University Honor Choir
February 10–12, 2017
Dr. André Thomas, guest conductor-clinician
The Delta State University Honor Choir is a special offering, sponsored by the DSU Choirs, for outstanding high school vocal students in Mississippi and the surrounding states. The festival takes place in the Bologna Performing Arts Center, a state-of-the-art performance venue located on the campus of Delta State University in Cleveland, Mississippi.
Guest Clinician
DR. ANDRÉ J. THOMAS, the Owen F. Sellers Professor of Music, is Director of Choral Activities and Professor of Choral Music Education at Florida State University. A previous faculty member at the University of Texas, Austin, Dr. Thomas received his degrees from Friends University (B.A.), Northwestern University (M.M.), and the University of Illinois (D.M.A.). He is demand as a choral adjudicator, clinician, and director of Honor/All-State Choirs throughout the United States, Europe, Asia, New Zealand, and Australia.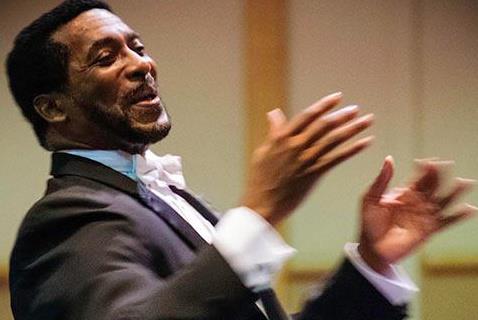 Dr. Thomas has conducted choirs at the state, division, and national conventions of the Music Educators National Conference (MENC) and American Choral Directors Association (ACDA). His international conducting credits are extensive. They include conductor/clinician for the International Federation of Choral Musicians, summer residency of the World Youth Choir in the Republic of China and the Philippines, winter residency of the World Youth Choir in Europe, and a premier performance by an American choir (Florida State University Singers) in Vietnam. He has been the guest conductor of such distinguished orchestras and choirs as the Birmingham Symphony Orchestra in England, guest Conductor for the Berlin Radio Choir in Germany, the Netherlands Radio Choir, the Charlotte Symphony, Tallahassee Symphony, China's People's Liberation Orchestra and the Czech National Symphony Orchestra.  Since 1988, he has also served as Artistic Director of the Tallahassee Community Chorus.
Thomas has also distinguished himself as a composer/arranger. Hinshaw Music Company, Mark Foster Music Company, Fitzsimons Music Company, Lawson Gould, Earthsongs, Choristers Guild, and Heritage Music Company publish his compositions and arrangements.
Dr. Thomas has produced two instructional videos "What They See Is What You Get" on choral conducting, with Rodney Eichenberger, and "Body, Mind, Spirit, Voice" on adolescent voices, with Anton Armstrong. His recent book "Way Over in Beulah Lan'. Understanding and Performing the Negro Spiritual" has quickly become a major source in this area of study.  The African Diaspora Sacred Music honored Dr. Thomas as a Living Legend.
In 2011, Thomas' dedication to and accomplishments in the choral arts were recognized by his peers in Chorus America, when that organization presented Dr. Thomas with its Distinguished Service Award.
He is a past president of the Florida ACDA, and the past president of the Southern Division of ACDA. 
Upcoming Clinicians for DSU Honor Choir:
Auditions for DSU Honor Choir
For general inquiries, please contact Dr. Adam Potter.
Timeline for DSU Honor Choir Auditions:
August 17, 2016: The two selections from which audition excerpts will be chosen will be announced on this website:
September 15, 2016: Exact audition excerpts and practice tracks will be posted
October 1, 2016: Deadline to register for auditions
October 6–11, 2016: Auditions
October 17, 2016: All participating directors will be sent the list of accepted students
DSU Honor Choir Audition Procedures (for high school teachers): 
The audition consists of two parts, both sung in quartets:
Prepared audition excerpts
Sight-singing
For the prepared excerpts, each student will be evaluated as member of an SATB quartet. (If you are not bringing any students in a particular voice part, students will not audition in quartets. For example, if you do not have any tenors auditioning, then your students will audition in soprano-alto-bass trios.) If you bring an uneven number of students per voice part auditioning, some of your students will sing in multiple quartets. (For example, if you have 10 sopranos, 14 altos, 1 tenor, and 4 basses: Your one tenor will sing in all the quartets from your school; you will select students to repeat in other quartets, except for the altos, each of whom will only sing once.) Students singing in multiple quartets will be evaluated only on the first quartet in which they sing.
For the quartet sight-singing, each student in the quartet will be given a simple, four-bar, major-key, diatonic exercise. They will have one minute to look over and practice the exercise before singing it; teachers may coach students during this minute if they wish. Students may sing on solfège, numbers, nonsense syllables, or whatever system they wish. The quartet will sing together. The tenor and bass lines will be identical; the soprano and alto lines will be identical. These two lines will make a simple harmony. There will be only stepwise motion.