Delta State University Honor Choir Festival
February 9–11, 2018
The Delta State University Honor Choir is a special offering, sponsored by the DSU Choirs, for outstanding high school vocal students in Mississippi and the surrounding states. The festival takes place in the Bologna Performing Arts Center, a state-of-the-art performance venue located on the campus of Delta State University in Cleveland, Mississippi.
Guest Conductor – Clinician, Dr. Frances R. Fonza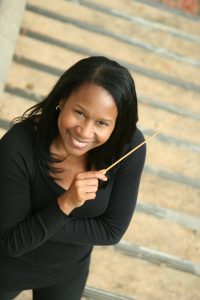 DR. FRANCES FONZA, is the Director of Worship and Arts at Mt. Ennon Baptist Church in Clinton, Maryland.  She earned a Bachelor's degree in Music Education at the University of Missouri – Columbia, and Master's and Doctoral degrees in Music Education and Choral conducting at Florida State University.  Fonza taught choral music at the middle school and high school levels in Kentucky for several years.  Most recently, Dr. Fonza was the Assistant Professor of Music Education and Director of Choral Activities at Wittenberg University in Springfield, Ohio.  Her responsibilities included teaching music education courses, aural skills, choral conducting, supervising music education interns, and directing the Wittenburg choirs.  Choirs under her direction have participated in state, regional, and national music festivals.  Dr. Fonza is an active singer, clinician, and adjudicator.  A frequent guest conductor, she has conducted several honor, public school, and church choirs.  Her research interests are community partnerships, healthy singing in Gospel music, and tone building strategies used in the choral classroom.  Fonza holds professional memberships in the National Association for Music Education, the College Music Society, and the American Choral Directors.
Upcoming Clinicians for DSU Honor Choir:
Auditions for DSU Honor Choir
For general inquiries, please contact Dr. Julia Thorn, Director of Choral Activities.
Timeline for DSU Honor Choir Auditions:
The two selections from which audition excerpts will be chosen are as follows:
Selection 1 : "How Lovely is Thy Dwelling Place" by Brahms
Selection 2 : "Music, Give Voice" by Raney
Audition Excerpt 1: Measures 1-43 "How Lovely is Thy Dwelling Place" – Brahms
Audition Practice: YouTube link for Choir Parts contains all voice parts highlighted individually and all parts combined together. https://www.youtube.com/playlist?list=PLB0C6D835B8B7AE2A&feature=view_all
Performance link: Brahms [50295550] https://youtu.be/LcwKW3by2Ps
Accompaniment Link: How Lovely is thy Dwelling Place:
Accompaniment Score: How Lovely is Thy Dwelling Place
Audition Excerpt 2: Measures 1-24 "Music, Give Voice" – Raney
Audition Practice: View sample pages and performance link below.
Performance Link: Raney [99/2615H] https://www.lorenz.com/choral/school/choral/school-choral/music–give-voice
Accompaniment Link:
Accompaniment Score: Music, Give Voice
November 1, 2017: Deadline to register for auditions
November 9–15, 2017: Auditions in various locations
November 17, 2017: All participating directors will be notified of accepted students
DSU Honor Choir Audition Procedures (for high school teachers): 
The audition consists of two parts, both sung in quartets:
Prepared audition excerpts
Sight-singing
For the prepared excerpts, each student will be evaluated as member of an SATB quartet. (If you are not bringing any students in a particular voice part, students will not audition in quartets. For example, if you do not have any tenors auditioning, then your students will audition in soprano-alto-bass trios.) If you bring an uneven number of students per voice part auditioning, some of your students will sing in multiple quartets. (For example, if you have 10 sopranos, 14 altos, 1 tenor, and 4 basses: Your one tenor will sing in all the quartets from your school; you will select students to repeat in other quartets, except for the altos, each of whom will only sing once.) Students singing in multiple quartets will be evaluated only on the first quartet in which they sing.
For the quartet sight-singing, each student in the quartet will be given a simple, four-bar, major-key, diatonic exercise. They will have one minute to look over and practice the exercise before singing it; teachers may coach students during this minute if they wish. Students may sing on solfège, numbers, nonsense syllables, or whatever system they wish. The quartet will sing together. This will be an easy but 4 part example.
Honor Choir Festival Repertoire
Hallelujah (Mount of Olives) – Beethoven [CM634] https://youtu.be/xK-IHpN1HBs

Accompaniment Score: Beethoven Hallelujah

How Lovely is Thy Dwelling Place – Brahms [50295550] https://youtu.be/LcwKW3by2Ps

Accompaniment Score: Brahms How Lovely

Sanctus – Randall Johnson [SBMP1052] https://youtu.be/aF3pbBtcs5c
Ogo Ni Fun Oluwa – Resephayne Powell [08703401] https://youtu.be/lXSNs58z14s
Music, Give Voice – Joel Raney [99/2615H] https://www.lorenz.com/choral/school/choral/school-choral/music–give-voice
Let Everything that Hath Breath – Jeffery Ames [earthsongs] https://youtu.be/DOWUmW3JLU0