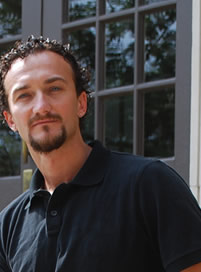 I grew up listening to Elvis Presley, John Lee Hooker, and Muddy Waters. I even watched B.B. King in a Blues Festival in my hometown, Istanbul, Turkey. During that concert, I would never have imagined that I would be living in an area where these legends once lived.

In the fall of 1999, I was recruited by Coach Ronnie Mayers to swim for Delta State University. I immediately transferred to DSU from Mimar Sinan University in Istanbul and completed my bachelor of fine arts in 2001. In 2003, I completed my master of fine arts at Memphis College of Arts. Upon completing that degree, I had the opportunity to come back DSU – this time, as a teacher.

I just completed my eighth year of teaching in the art department. Teaching painting and drawing is, well, fun. I enjoy the company of my peers and students and like to take new challenges and build partnerships to make teaching exciting.

Delta State is a diverse university. I believe diversity is the key to attracting not only international students, but students outside the Mississippi Delta, even outside the state. The promotion of the Delta's culture is very vital to this student recruiting and retention process.

Case in point: the Mississippi Delta is well known around the world for its blues history and musical heritage. Delta State University is located at the heart of this world-renowned blues genre. Therefore, DSU is a fabulous institution that many international students have yet to discover; however, it has potential to be even greater.