Welcome & Greetings
Matt Jones
Senior Associate Athletic Director
Ronnie Mayers
Director of Athletics
Legends of Delta State University

William N. LaForge
University President
Dedication
Mike Kinnison
Head Coach
Tim & Nancy Harvey
Harvey Family
Jimmy Newquist
Baseball Alumnus
Introduction of Coach Ferriss
Rick Cleveland
Mississippi Sports Hall of Fame
Dave "Boo" Ferriss
Ribbon Cutting

Statue Unveiling
Mike Kinnison, Judson Thigpen,
President LaForge, Ronnie Mayers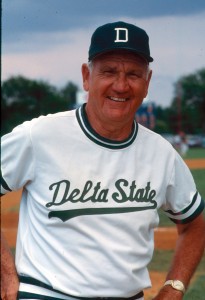 Most people simply know him as "Boo." He is Dave "Boo" Ferriss, Boston Red Sox Hall of Famer and legendary coach of the Delta State University Statesmen. Ferriss retired following the completion of the 1988 season, but he continues to be a tireless supporter at all levels of baseball throughout the state and especially his beloved Statesmen.
The Shaw, Miss., native spent 46 years in baseball on the collegiate and professional levels, including 26 seasons at Delta State. A legend in national collegiate baseball coaching circles, Ferriss was inducted into the American Baseball Coaches Association Hall of Fame in 1988 in Atlanta, Ga. Ferriss compiled a 639-387-8 record, all at Delta State and his coaching record ranks him among all-time national coaching leaders at the NCAA Division II level. His 1988 team was ranked 9th nationally in the Collegiate Baseball poll. When Ferriss took over the baseball program in 1960 he started it from the ground level. The Statesmen played many of their games off campus and Ferriss coached without the benefit of an assistant. He directed DSU teams to the NCAA Division II Playoffs in eight of his last 12 years, including three trips to the NCAA Division II championships where the Statesmen finished third, second and third respectively in 1977, 1978 and 1982. Gulf South Conference championships came in 1978, 1979, 1985 and 1988, with the Statesmen finishing second in 1981 and third in 1982. Forty-nine of his players earned All-Gulf South Conference honors.
Ferriss also earned several honors for his coaching accomplishments. In 1988, he received the United States Baseball Federation Service Award for his contributions to the game. He has been named NCAA Regional "Coach of the Year" three times while also earning Gulf South Conference coaching honors three times. In 1978 and 1982 he was selected as "College Baseball Coach of the Year" in Mississippi and was runner-up in that category in 1985. His 1985 team was ranked No. 1 in the nation for several weeks in the NCAA Division II poll.
Under his direction, 20 Statesmen players earned All-American honors and 23 continued their baseball careers on the professional level. Twenty former players received Academic All-American honors and forty former players are now coaching in the high school and college ranks. In addition to his DSU coaching duties, Ferriss also served at various intervals as Athletic Director and Director of the DSU Foundation.
Ferriss, a graduate of Mississippi State, was signed by the Boston Red Sox after his junior year of college, and the lanky right-hander broke into professional baseball with Greensboro (N.C.) of the Piedmont League in 1942.
After military service he joined the Boston Red Sox in 1945 where he spent 10 years in the organization (five years as a pitcher and five years as the pitching coach). He was named "Rookie of the Year" with a 21-10 record, and he defeated each American League team the first time he faced them while winning his first two major league starts with shutouts.
In 1946, Ferriss was the American League's number one pitcher with a 25-6 record and he pitched the Red Sox to a 4-0 win over the St. Louis Cardinals in the 1946 World Series. His major league record was 65-30. Ferriss holds several major league records that include the most consecutive home wins of 13 in 1946.
He is a 1989 inductee into the Delta State University Sports Hall of Fame and is a member of the Mississippi Sports Hall of Fame and the Mississippi State University Sports Hall of Fame. He was inducted into the Mississippi Semi-Pro Baseball Hall of Fame in 1981 and to the Boston Red Sox Hall of Fame in 2002.
In the fall of 2003, the Mississippi Sports Hall of Fame announced that it would be sponsoring a "Mississippi Collegiate Baseball Player of the Year" and the trophy would be the name and likeness of Dave "Boo" Ferriss. Stephen Head, of the University of Mississippi, became the Ferriss Trophy's first recipient.
In February of 2008, coach Ferriss welcomed back world-famous author John Grisham to Delta State's campus for an athletic fundraiser. Grisham, a Mississippi native, began his career path "thanks to coach Ferriss" after the coaching legend cut Grisham from his team in the fall of 1978. In Grisham's "The Kindest Cut," the author details his time at Delta State and how coach Ferriss handled the difficult task of cutting the would-be outfielder.
Today, coach Ferriss continues to champion the cause of collegiate baseball across Mississippi and the U.S. He is a frequent speaker at civic clubs across the state, and he never misses an opportunity to watch "his" Statesmen play baseball.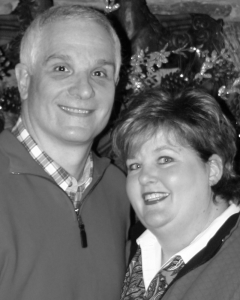 Tim and Nancy Harvey, 1980 graduates of Delta State University, made the lead gift of over $500,000 to the Ferriss Field Renovation Project. Tim Harvey, a four-year starter from 1977-80 in leftfield for coach Dave Boo Ferriss and the Statesmen, was a two-time Academic All-American and All-GSC outfielder. Harvey is now in private business after a very successful stint as a senior executive with leading global hotel companies including Hilton Hotels Corporation.
Harvey received the Lawrence L. Stewart Service Award in April, 2015 for his support of Delta State athletics. Harvey has also been recognized as the Outstanding Alumnus of the Year in 2005 and was elected to both the Student and Alumni Hall of Fames at DSU. He continues to serve his University, as an active member of the National Alumni Association and currently as Foundation Board President. As a student-athlete, Harvey helped the Statesmen to the 1977 & 1978 College World Series, and the 1978 and 1979 Gulf South Conference Championships.
Harvey still holds the career record for triples (14) and walks (140), and is tied for the  single-game hits record with six. In 1980, Harvey received the Charles S. Kerg award recognizing the top senior athlete. In 2008, Harvey was inducted into the DSU Athletic Hall of Fame.
Nancy Harvey, while at DSU, was a member and officer of Delta Delta Delta sorority and served on the Panhellenic Board. She was elected to and served as an officer of Kappa Delta Pi, an Education Honor Society and was chosen by the faculty as a Faculty Scholar and included in Who's Who Among Students in American Universities and Colleges.
Nancy graduated with honors with a BSE in Elementary Education. Nancy taught third and fourth grades in Desoto County Mississippi. After retiring from full time teaching, her love for children and education led her to a part time position at Capleville Methodist Church teaching preschool and working with three year olds. Nancy is a long time member of The Josephine Circle, Inc., a non profit organization that provides scholarships and interest- free loans to students for higher education, where she served  on both The Board of Directors and Executive Board. She has financially supported several students with gifts and scholarships over the years in their pursuit of secondary and higher education.
Mr. Tom Waring
Dr. and Mrs. Thomas Wiggins
M. and Mrs. A. C. Williams
Mr. and Mrs. C. Newt Willis
Mr. and Mrs. Eddie S. Wilson
Mr. Walter Wood, Jr.
Mr. Luke Wrenn, Jr.
Mr. and Mrs. William N. LaForge
Bolivar Commercial
First National Bank of Clarksdale
Mr. Jim McCaleb
Mr. and Mrs. John L. Pearson
Mr. and Mrs. Lee Jordan
Mr. and Mrs. Duke Morgan
Mr. Charles Batts
Mr. Brady Jones
Mrs. Anita Bologna
Mr. Edward Luse
Mr. William Crenshaw, Jr.
Mr. Steve Martin
Mrs. Kathryn Arant
Planters Bank & Trust Company (Cleveland)
Mr. Jimmy Wilson
Ms. Lana Aguzzi
Mr. Rusty Ruscoe
Children's Dental Clinic
Mr. and Mrs. Will J. Champion
Mr. Freddie Chiles
Mr. Tommy Crenshaw
Mr. and Mrs. Guy Barr
Mr. Dom Bevalaque
Mr. and Mrs. Bob Billingsley
Mrs. Susanne Blalock
Mr. and Mrs. Billy F. Boswell
Dr. Milton and Janie Allen Bradley
Rev. James and Billie Breland
Mr. Gene Bryant
Dr. Phyllis Bunn
Mr. and Mrs. Christopher M. Burgess
Mr. and Mrs. Daniel P. Davis
Mr. and Mrs. William Davis
Denton Dairy Products, Incorporated
Dr. and Mrs. David M. Ferriss
Mr. Mike Fielder
Mr. and Mrs. Charles W. Fioranelli
Mr. Jim Fisackerly
Mr. and Mrs. Keith Fulcher
Mr. Jim Garverick
Mr. and Mrs. Carl L. Grubb
Mr. and Mrs. Raymond M. Hale III
Mr. Kenny Dill and Dr. Anna Looney Dill
Dr. and Mrs. William L. Hood
Mr. and Mrs. Donald House
Mr. and Mrs. Bobby Howell
Mr. and Mrs. Peter Jernberg
Mr. and Mrs. Parks Johnson
The Doctors Jordan
Mrs. Katherine Batenhorst
Mrs. Joyce Kennedy
Mr. Dan King
Mr. and Mrs. David Kuhn
Dr. Wayne Lee, Jr
Mr. and Mrs. Robert C ."Blue" Logan, Sr.
Mr. and Mrs. Harry L. Lott
Mr. and Mrs. Ronald G. Mayers
Mr. and Mrs. Laurence Mellen
Mr. Mike Moore
Mr. Emmett Morris
Mr. Robert and Ms. Karen Naron
Nehi Bottling Company
Mr. Tony Pantini, Jr.
Dr. J. G. Peeler, Jr.
Mr. and Mrs. Kirkham Povall
Mr. Jack Ratterman
Mr. and Mrs. Langston Rogers
Dr. and Mrs. Don A. Skelton
Dr. and Mrs. William Smith-Vaniz
Mr. Danny Tackett
Mrs. Carol Tatum
Dr. and Mrs. Bradley B. Teague
Mr. and Mrs. James Tims
Mr and Mrs William R Wade III
Wal-Mart
Mrs. Eloise Walker
Mr. and Mrs. Keith Walker
Mr. Charles E. Warren
Capt. William Worsham
Mr. and Mrs. Jeff Charles
Mr. and Mrs. Jerry Ainsworth
Mr. and Mrs. Mickey Thompson
Mrs. Mabel Crawford
Mr. Bert Mann, III
Mr. Nicholas House
Mr. Brad Lightsey
The Image Specialist
Mr. and Mrs. Bobo Catoe
Mr. Angelo Balducci, Jr.
Ms. Stella Corley
Mr. and Mrs. Wiley J. Barbour
Mr. and Mrs. John Letchworth
Mr. and Mrs. Robert L. Koestler
Mr. William Nettles
Mrs. LuLu Maness
Mr. A.B. Smith, Jr.
Sanderson Farm, Inc.
Mr. Thomas Shelton
Mr. E.S. Van Cleve, Jr.
Yawkey Foundation II
Mr. and Mrs. Jeffrey Farris
Mr. and Mrs. George Dennis Short
Mr. James Flack, II
Mr. Walter Barrett, Jr.
Dr. and Mrs. George B. Elder
Mr. Lee Burke
Mr. and Mrs. Curtis Buchanan
Mr. and Mrs. Zachary Tatum
Mr. David Ring
Mr. Keith Latham
Mr. Edward Broome
Mrs. Dot Evans
Byrd Service Station, Inc.
Our Lady of Victories Church
Dr. and Mrs. Gary Bouse
Mr. Mickey Thompson
Dr. Smith Murray
Ms. Elizabeth Fike
Mrs. Henri Kennard
Mr. Calvin Wells
Gale Davis & Company Inc.
Mr. and Mrs. George Rhodes
Mr. David Cuicchi
Steven Vinson
Mr. and Mrs Ed Phillips
Ms. Michelle Baron
Mrs. Harold Mitchell
Dr. and Mrs. Ellen C. Ewing
Delta Regional Foundation
Quinton Enterprises
Mr. Charles Jacobs
Mrs. Karen Carnahan
Mr. Tim Nicholson
Mrs. Shirley Johnson
Tredge LLC
Mr. W.T. Morris
Schwab Charitable Fund
Hecho En Mexico, LLC
Hugh Miller Arant III Investments, LLC
Sam E. and Burnice C. Wittel Foundation
Delta Reds II
Zidaco, G.P.
Mr. Bob Reed, Jr.
Mr. Johnny Hays
Leonore O' Malley
3-Rock Farms Partnership
Tchula Grain Company
Gregory Bart
Mr. Richard Cuicchi
Carol Lightsey
Mr. Bart Gregory
Mr. Rick Cleveland
Sylvia Carraway
Mr. Bill Marchant
Dr. Ben Mitchell
Dr. Rose Strahan
Dr. and Mrs. Wayne Blansett
Mr. and Mrs. John W Elliott
Mr. and Mrs. Billy F Boswell, II
Mr. and Mrs. Michael O. Black
Dr. and Mrs. Douglas L. Adams
Mrs. Jerry Taylor
Dr. and Mrs. Kent Wyatt
Ms. Ruby Anne Kincade
Mr. and Mrs. Paul S. Arnold
Mr. and Mrs. Bill Hamilton, Jr
Mr. Roy Sandefer
Mr. and Mrs. Charles Weissinger, Jr.
Ms. Becky Foster
Mr. and Mrs. Henry M. Drake, Jr.
Mr. Jerry Stigler
Dr. and Mrs. John J. Arnold
Mrs. Frances Wilson
Mr. and Mrs. James M. Kinnison
Mr. and Mrs. Harry P Tarsi
Mr. Bill Greenleaf
Cleveland State Bank
Robinson Electric Company
C.P. House Gas Co.
Mr. Casey Myrick
Mr. and Mrs. Wayne Davidson
Mr. and Mrs. Barney Chiz
Mr. Maxwell Cooke
Mr. and Mrs. Frank Crosthwait, Jr
Mr. Arthur Davis
Mr. Hubert Rackley, III
Mr. and Mrs. John M. Alexander
Mr. and Mrs. Robert A. Barrett
Mr. Raymond Biagioli
Mr. and Mrs. James H. Bond
Mr. Hunter Cade
The Doctors Campbell
Mr. Ed Cauley
Mr. and Mrs. Tommy Crosby
Mr. Sammy Dantone, Jr.
Mr. and Mrs. Gale Davis, Jr
Mr. Jackie Joe Davis
Mr. and Mrs. Steve Davis
Mrs. Brenda Dean
Mr. and Mrs. Pat W. Denton
Mr. and Mrs. Larry W. Easley
Mr. and Mrs. John White
Mr. and Mrs. Thomas L. Fisackerly
Mr. and Mrs. Willo Goodwin
Dr. and Mrs. Bryce Griffis
Mr. and Mrs. Richard M. Hamberlin
Mr. and Mrs. James T. Harvey
Dr. Ron Hogan
Mr. and Mrs. Bruce Holder
Mr. and Mrs. Charles Hughes
Mr. and Mrs. Paul Janoush
Mr. Charles Jourdan
Mr. and Mrs. Don Kidd
Mr. and Mrs. Ed Kossman, Jr.
Mr. and Mrs. Kenneth A. Lommel
Mr. and Mrs. Clifford T. Makamson
Mr. and Mrs. R. G. Mason
Dr. Clyde Muse
Mr. Chester Norris
Mr. and Mrs. Russell W. Osborne
Mr. Ricky Perkins
Mr. and Mrs. Milton C. Plitt
Mr. William Read
Mr. Bryan Rodgers
Mr. Fred Rossi
Mr. and Mrs. John W. Smillie
Mr. and Mrs. Bradley Smith
Mr. and Mrs. Frank W. Smith, Jr.
Mr. Russell Stewart
Dr. Raanne Tindle
Mr. and Mrs. Charlie McGuffee
Mr. and Mrs. James A. Newquist
Mr. Chester Norris
Mr. and Mrs. Matt Jones
Mr. and Mrs. Brent Leach
Mr. and Mrs. Noel Funchess
Mr. and Mrs. Dennis Giger
Mr. and Mrs. George Nassar
Mr. and Mrs. Richard Post
Mr. Judson Thigpen
Mr. and Mrs. Barry Lyons
Col. Jack Steele III
Mr. and Mrs. Bob Wilbanks
Mr. and Mrs. David Abney