"I have lost sight, but I have gained vision."
Sharon McConnell is a figurative sculptor whose work has been featured in numerous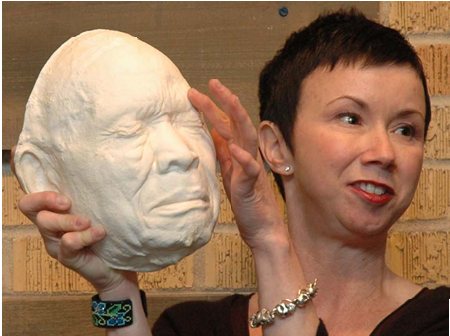 exhibitions and is included in museum, university, and private art collections.  She became involved with sculpture after being diagnosed at the age of twenty-seven with Uveitis, a degenerative eye disease.  "Through sculpture, I have rediscovered my lost sense", she says.
Originally from New England, McConnell moved to Santa Fe in 1996 to study all aspects of art.  Taking a traditional approach, she learned from teachers and mentors including Arlene Siegel, Robert Refvem, Sam Scott, Dean Ericson, Ulrich Franzen, Agnes Martin.  Her early clay figure studies evolved into the more direct, hands on method of plaster life casting.  "A life cast is like a 3D photograph to someone who is blind.  It captures the flesh, muscle, bone, hair, and the subtle expression of emotion," McConnell explains.  Eighteen life-size plaster figures made by direct casting formed her popular exhibit titled "Stripped Naked."
But it is for her life-masks of legendary blues musicians which McConnell is best known.  "I wanted to discover the faces behind the music I love, so I went to Mississippi to map out the faces of the real Delta Blues men and women."  Her project took root and found a strong direction of its own, leading McConnell to create masks of fifty-five musicians to date.  This body of work has been exhibited in the New Mexico State Capitol Rotunda, the Albuquerque Museum, Willie Dixon's Blues Heaven Foundation, and Blind Faith Gallery in Clarksdale, Mississippi.  She donated the original life casts to the Delta State University Archives.
What began as a project about cultural preservation developed into a deeply personal journey for McConnell.  Inspired to move to the source of the Blues, McConnell relocated to Como, Mississippi in late 2006.
"Santa Fe is a majetic visual feast," McConnell says, "but I lost connection with New Mexico as my vision faded.  In Mississippi, I can ride through the Delta's endless cotton fields and empty landscapes and can almost breathe in the cotton fibers, smell the earth, and feel the heaviness of its moist air on my skin.  I can empty my mind and feel freedom.  It is within this simple landscape that I am finally home."