"I Am Delta State" on Giving Tuesday
This campaign ended on Dec. 3, 2019,
but you can still make a gift to Delta State University!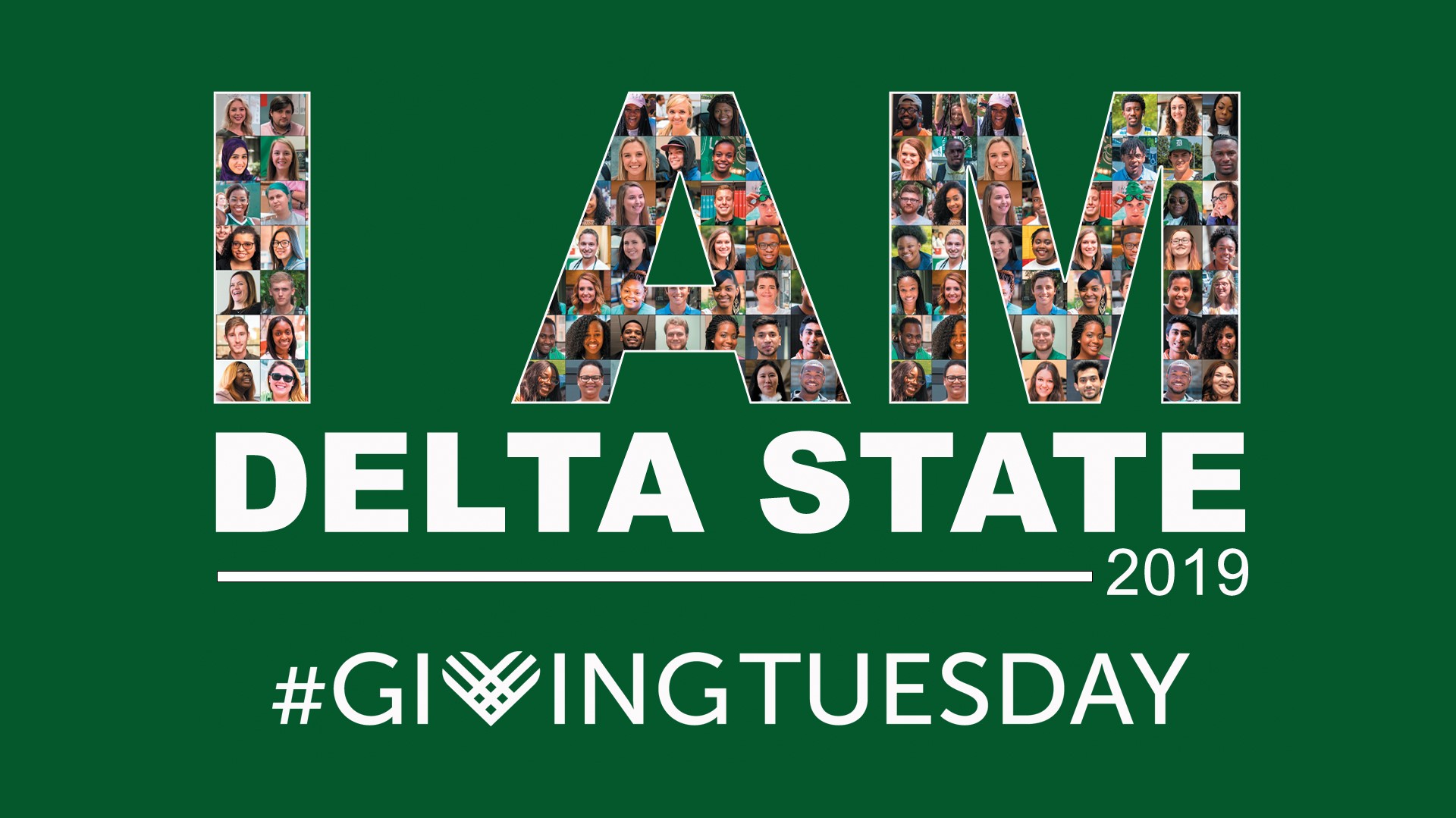 Because of you, Delta State excels in the classroom, on the field, and in the community. Make your gift to DSU on #GivingTuesday, Dec. 3, 2019. Encourage your friends and family to join in, too.
Watch our video that features students explaining how Delta State provides quality education and top-notch extracurriculars.
Like what you see? Love Delta State? Follow, share, and re-tweet DSU's #GivingTuesday updates across our social media platforms.
"I Am Delta State" on Giving Tuesday occurred Tuesday, Dec. 3, 2019, for 24 consecutive hours.
Monday, Dec. 2, 2019

5 PM: President William N. LaForge made the first gift. He is Delta State!
 Tuesday, Dec. 3, 2019

10:30 AM: Donors so far come from mostly our hometown of Cleveland. Jackson, Miss., also represents.
11 AM: Who are the donors? As of now, a mix of DSU faculty, staff, administration, alumni, and friends.
11:30 AM: Here's how much one donor loves DSU: the Delta State alumnus, who also is a former staffer, gave twice.
Noon: Other Mississippi locales where donors live: Clinton, Gunnison, Hernando, and Water Valley.
12:30 PM: Additional donors: Delta State alumni couples.
1 PM: Delta State employees to give today work at the DSU Foundation, University Advancement, Office of Financial Assistance, Art Department, Roberts-LaForge Library, Career Services, and Division of Teacher Education, Leadership, and Research, among others. That's on top of donors President LaForge and Provost Charles McAdams.
1:30 PM: The most popular dollar amounts given currently: $25, $50, and $100. (Any contribution is appreciated!)
2 PM: Current Delta State students also have given to "I Am Delta State."
2:30 PM: Some donors to #GivingTuesday this year have also given to Delta State in other ways for more than two decades.
4 PM: Two donors from Texas, y'all: Austin and Bay City, both alumni.
5 PM: Donations also come from Lake Village, Ark., and Aurora, Ill.
-1203
Days
-13
Hours
-26
Minutes
-11
Seconds