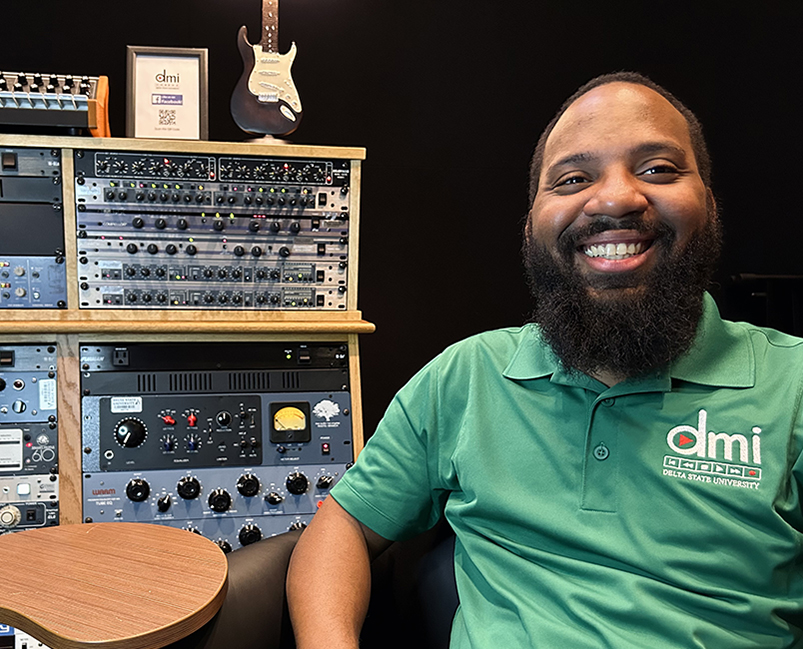 Clarksdale, Mississippi native Travis Calvin earned a Bachelor of Science in Music Industry Studies degree in 2013 from Delta State University. While at DSU, he was a member of GRAMMY U, AES (Audio Engineering Society), and Omicron Delta Kappa (ODK), serving as a vice-president of the leadership organization. Calvin also earned a degree from Coahoma Community College and a certification from Berklee College of Music.
He began his musical career in the after school program at the Delta Blues Museum, where he quickly developed as an accomplished guitar player. In 2000, as a member of the band "Blues Prodigy," Travis received the W.C. Handy Kids Foundation Award (now Blues Music Award) and appeared in a special broadcast of the Blues on Nick News the following year. He has accompanied and performed with multiple bands and artists, including the International Church of God and Christ Orchestra, Marvin Sapp, Rance Allen, Steve Azar, and the Nighthawks. As a member of the DMI All Stars, Travis performed for Mississippi GRAMMY night in Los Angeles during GRAMMY week.
In addition to his role as a musician, Travis has served in the classroom as a music and music technology instructor through the Delta Blues Museum, Delta Arts Alliance, and the DMI Mobile Music Lab. He was awarded a unique opportunity in 2013 to meet the First Lady, Michelle Obama, during a ceremony at the White House honoring the work of the Delta Blues Museum. Calvin joined the staff of the DMI at Delta State in 2013 as Project Coordinator of the W.K. Kellogg Foundation Young Men of Color grant titled, "Hip Hop to Rock: Healing with a Groove" which is administered through the DMI. He served as an adjunct instructor in entertainment industry studies before joining the DMI faculty full time in the fall of 2017 where he serves as Assistant Professor of Practice.