Parents Association
Welcome to the Delta State University Family and the Office of Student Life. The DSU Parents Association (PA) supports parents and families as their students navigate the Delta State campus. We provide programs and activities, develop resources, communicate with University administration and raise funds for scholarships and other functions which directly support student success. College is a very stressful time in the life of a student, but through the combined effort of family and university, this endeavor can be very successful.
Our mission is to provide you with the resources to become familiar with life here in The Delta and how the university operates. Founded in 2007, the PA is directed by the Office of Student Life, who makes decisions regarding Parent Visit Days/Weekend, the Parent Association Fund, and the goals and initiatives which support our Green & White family. We encourage you to volunteer to lead a PA event at some point during your student's DSU career.
Parent's Day
Paren'ts Day is a half-day celebration just for you; come find out why your student loves being a part of the Statesmen family!
Please make plans to join us Friday, April 7, 2017, as the Office of Student Life and the Parents Association host a #DSUFamily day filled with food, fun, and very little homework!
Please complete the registration form below to secure your spot!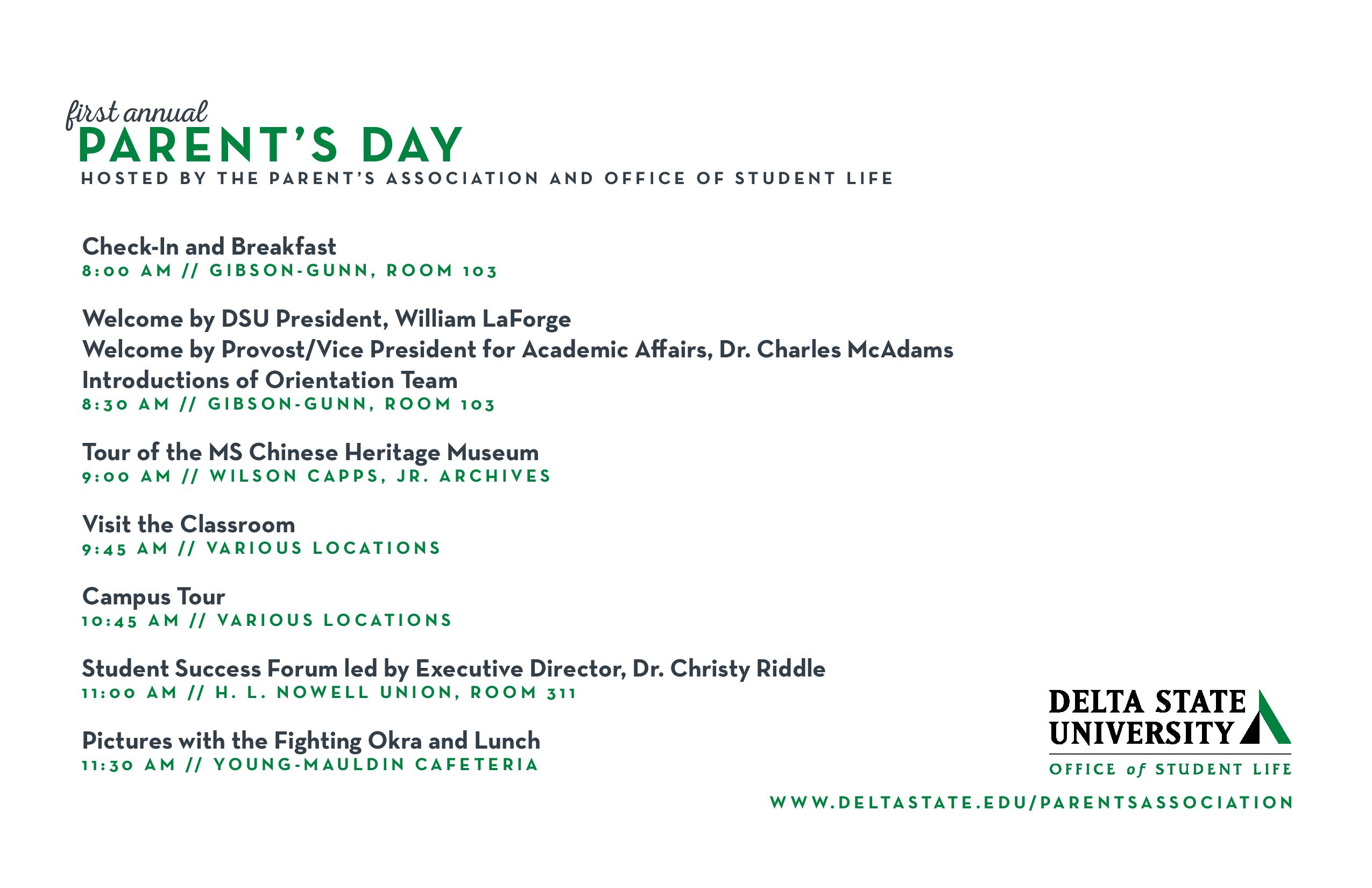 Registration for Parent's Day 2017 was made available from March 21st - April 4, 2017. Please contact the Office of Student Life for assistance, by phone at 662.846.4666, or by email at orientation@deltastate.edu.
Frequently Asked Questions
Admissions – As a department under the Enrollment Management umbrella, the Office of Admissions is where the Delta State University admissions and enrollment process begins. The Admissions office takes in all first time student applications, transcripts, shot records, and other supplemental items for admission. They also provide tours to future students.
Financial Aid – The Student Financial Assistance office is not just for students. You may visit with a Financial Aid Counselor to assist with the FAFSA, MESG, MTAG, MPACT, and/or any other grants and loans. P.S. It is never too early to complete the FAFSA!
Health Services – In partnership with DSU, Bolivar Medical Center operates the on-campus University Medical Center. A certified nurse practitioner is available, no appointment is necessary, and all services are available to the DSU community. Students should expect to present their insurance card to be seen by the Health Services staff.
Housing & Residence Life – From in-room bathrooms to shared living space, Housing & Res. Life offers several options for students to live on campus. Each student must apply to live in an on-campus Hall, and complete their application by paying a Housing deposit.
Jobs – The Office of Career Services provides each student with the opportunity to secure a job. Whether an on-campus position or off-campus internship, Career Services provides one-on-one assistance in resume writing, interview prep, and application assistance.
Parking – University PD oversee all parking areas on campus. Student parking is provided around all campus building that are Zoned by a specific color. These colors indicate residential and commuter student parking. All vehicles must be registered and parking decals must be purchased through their office. If you are visiting campus, it is encouraged to contact the University PD to receive a visitors parking pass.
Registration / Courses – Every incoming student (and parent) is encouraged to attend Orientation. The Office of Student Life offers academic advising and registration times at each Orientation session. This is a time where every student receives Advisor guidance through academic mapping and the course registration process. Orientation Leaders (OLs) assist students as they learn to navigate the online course registration system and student account.
Student Life – As a member of the Parents Association (or soon-to-be member), the Office of Student Life is your home. Student Life provides students with various student activities, organizations, and programming events to support their in class learning. Student Life also manages Orientation, Move-In Day, and on-going support for our extended family. If you have questions about being involved in PA, give us a call!
Student Success – The Student Success Center is your students' college compass! The Center offers academic advising, academic support, and student success programs to help your student succeed each semester and graduate with a degree from DSU. They also oversee the First Year Seminar, Okra Scholars, and International Student Service programs.
Membership
Becoming a member to the Parents Association is simple. All parents and guardians of current DSU students, are eligible for participation in the Association. There's a two-step process:
Entry Fee – Each member pays a one-time $10 fee to the Parents Association Fund. The Fund is housed in the DSU Alumni & Foundation. All dues are tax deductible and used only for financing PA events. Click here to pay your membership to the PA.
On-Going Membership – Once you have paid the required $10 fee, you are a member of the PA. You will begin to receive E-Newsletters, special invitations, and exclusive information.
We value all members, new and seasoned. Please encourage other DSU parents and guardians to participate, and continually let us know what suggestions you have for PA.
While we hope that this webpage will give you comprehensive information about DSU campus resources, activities, and departmental services, you may still have questions about the University and the transition of your student into college life. Please feel free to contact the Office of Student Life at any time with questions, comments, and/or concerns by email at orientation@deltastate.edu or by phone at 662.846.4666.