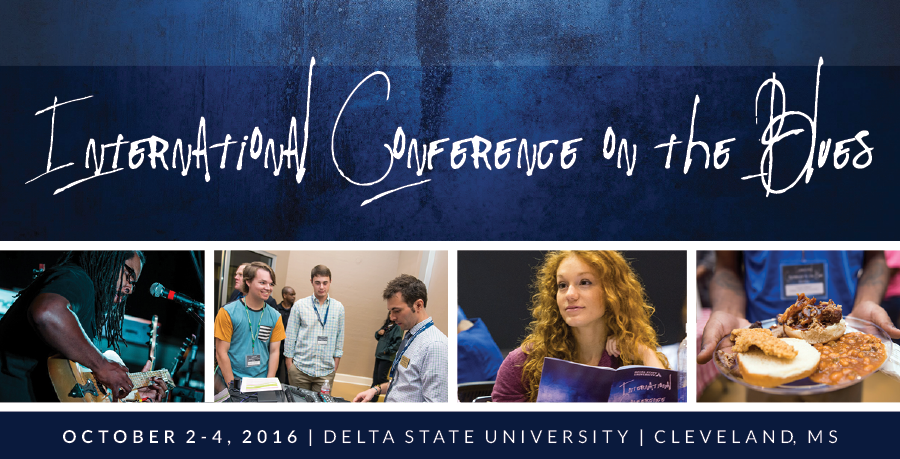 ---
Preregistration for the 2016 conference is now closed. Walk-up registration is still available at the conference (payment by check or cash only). DSU students may still attend events but should arrive early in order to sign in.
All performances and presentations will be held at the Delta Music Institute on the campus of Delta State University unless otherwise noted. Schedule is subject to change.
---
Sunday, October 2, 2016 – Dockery Farms
4:00-6:00
Blues on the Grounds 
Enjoy hors d'oeuvres and live Blues music
Sponsored by the Dockery Farms FoundationBring a blanket or chair
Dockery Farms
229 MS-8, Cleveland, MS 38732
6:00 pm
Dinner on your own 
Suggestions provided by the Cleveland-Bolivar Chamber of Commerce
Cleveland
---
Monday, October 3, 2016 – Delta Music Institute
8:00-4:00
REGISTRATION
DMI Lobby
8:30-10:00
OPENING SESSION

8:30-9:15 Coffee/pastries/welcome
9:15-9:50 Welcome remarks

President William LaForge, Delta State University
Dr. Rolando Herts, Director, Delta Center for Culture and Learning

Moderators: Shelley Collins and Don Allan Mitchell, Conference Co-Chairs

DMI Studio A
10:00-10:45
PLENARY SESSION

A conversation with GRAMMY nominated guest artist Cedric Burnside

Moderator: Don Allan Mitchell

DMI Studio A
10:45-11:05
Break 
Studio A & Lobby
11:10-12:00
PAPER SESSION: Blues Research

Dr. David Evans, University of Memphis (retired):
Delta Blues Research a Half-Century Ago

Join us for a presentation by a Grammy winner and leading specialist in American folk and popular music–particularly blues, spirituals, gospel, and African-American folk music–as he presents an illustrated description of blues research in the Mississippi Delta in 1967.

Moderator: Dr. Amber Hendricks

Studio A
12:00-12:55
Lunch on your own – Food trucks at the DMI
Enjoy regional cuisine presented by Delta chefs
DMI
1:00-1:50
PAPER SESSION: Diverse Sounds and Sources

Odie Blackmon, Middle Tennessee State University & Vanderbilt University, and GRAMMY nominated songwriter: Hoodoo and the Blues (and what's a Mojo anyway?)

Blues lyrics have long referenced Hoodoo beliefs and rituals. From this tradition, some famous bluesmen were influenced to rename themselves into powerful demigods called Howlin' Wolf, Lightnin' Hopkins, and Muddy Waters.

Michael Smith, The Ohio State University: "I Just Love the Rhythm of the Clickety Clack:" The Influence of the Sound of the Railroad on American Music

This presentation will illustrate how sounds associated with the railroad have influenced music styles, supplied timbre and colors, and inspired musicians and composers to come up with unique creations that draw directly on rail travel.

Moderator:  Dr. Chuck Westmoreland

DMI 201
1:00-1:50
PAPER SESSION: Blues in the Delta

Dr. Clay Motley, Florida Gulf Coast University: The Forest and the Trees:  Scholarship on Clarksdale, Mississippi

Most scholarship about Clarksdale, MS, focuses on individual artists and genres, rather than the historical and cultural context of Clarksdale. This presentation will explore numerous reasons for this relative lack of scholarly attention and make the case for more sustained academic focus on Clarksdale's history and the cultural context of its music.

Dr. Tammy L. Turner, Murray State University: Finding Son House:  The Improbable Journey to a Remarkable Rediscovery

In the summer of 1964, three young men embarked on a quest to find blues musician Son House. Their travels took them to the doorstep of a musician who had disappeared from the blues world over two decades earlier.

Moderator: Dr. Brian Becker

 DMI 202
2:00-2:50
PAPER SESSION: Expression and Identity

Dr. April Prince, University of North Texas: "They Sing it over the Radio, but Not Like This": Exploring Women, Songs, and the Southern Self in Early Folk, Country, and Blues

This paper focuses on the connections between the field interviews and commercial recordings of early country music and blues women. Southernness and southern femininity were constructed and marketed musically, while female performers and informants modified songs to fit their own notion of self.

Dr. Steven Garabedian, Marist College: Lawrence Gellert: Fiction and Fact

In the 1930s, white radical music collector Lawrence Gellert compiled a field archive of "Negro Songs of Protest" from everyday African American working people. After WWII, Gellert fell under a cloud of disrepute. This paper details elements of Gellert's life and work in order to rehabilitate his reputation and, most importantly, call attention to his valuable documentary archive of blues, work songs, spirituals, hollers, and hybrids from the 1920s through WWII.

Moderator: Michelle Johansen

This session is sponsored by the DSU Quality Enhancement Plan.

DMI 201
2:00-2:50
PAPER SESSION: The Blues and Communitas

Dr. Ronald Pimentel, Washington State University Vancouver Blues Music, the Sacred and the Profane

This presentation applies the consumer behavior concepts of the sacred and profane to blues music.

Moderator: Lesley Thomson-Sasso

DMI 202
3:00-3:50
PAPER SESSION: Recording the Blues 

Mr. John Bagnato, University of Pittsburgh: "The Half Ain't Never Been Told": Blindness and Blues in the Race Record Evangelists 1926-1929

Perceptions of blindness shifted during this brief period of Black history and as musicians transitioned from street performers to Race record celebrities.

Dr. Brian Lynn: Panpipes, Whooping and Hunting in the Pre-Blues Recordings of Sid Hemphill and Henry Thomas Before 1945

An analysis of the recorded output of Sid Hemphill and Henry Thomas offers a glimpse into the complex musical landscape of the American South during the early 1900s. Recordings feature quills (panpipes) performance, vocal whooping and hunting are central to the presentation.

Moderator: Dr. Amber Hendricks

DMI 201
 3:00-3:50
PAPER SESSION/PRESENTATION: Sources and Interpretation

Dr. Kim Pineda, Texas Tech University: The Blues: Going Medieval on your Assumptions

A discussion of the international and historical musical elements that are found in modern Blues music. Although there is no clear point of origin for the harmonic vocabulary, form, or nuances associated with modern blues, its irregular intervals are also found in centuries-old musics from different parts of Africa as well as in the Islamic call to prayer, and a clear trail exists between the Arabic music theory of Al-Farabi in the 10th century and its subsequent diaspora to the West.

Prof. Natalie Tyree, Delta State University: The Visual History of the Blues Show Poster

Prior to social media and modern advertising, the show poster's primary role was advertising events and drawing fans to shows. This presentation will explore the visual evolution of these posters and their role as functional art.

Moderator: Dr. Laurissa Backlin

 DMI 202
4:00-5:00
PAPER SESSION: Legal Issues

Prof. David Pimentel, University of Idaho College of Law: Rule of Law and the Blues: Musical Expressions of the Failure of Justice and of Extra-legal Recourse

The Blues emerged in America at a time when the rule of law was lacking, particularly for America's black communities. The Blues depicts a glorification of (or at least a sympathy for) the character of the outlaw, since the lack of rule of law makes legal compliance foolish or shameful, while those who defy the law may be bold heroes. Ultimately, the music of protest and civil disobedience played a role in bringing U.S. society closer to the rule of law.

Arthur Calderon and Michael Carr, Carr Calderon, PLLC: Avoiding the Legal Blues: Protecting Your Music from Others and (Sometimes) Yourself

This presentation will explore legal trends affecting artists in the music industry, and provide aspiring musicians and industry professionals with the legal tools to understand their rights regarding their music, incorporating cases involving popular musicians.

Moderator: Kelli Carr

DMI 201
5:00-6:00
Dine around town (on your own)

Suggestions provided by the Cleveland-Bolivar Chamber of Commerce; reservations recommended.

 Cleveland
7:30-9:00
PERFORMANCE: Cedric Burnside Project

Levitt AMP Cleveland Music Series

Green Space on the Crosstie Walking Trail (intersection of S. Sharpe Ave. & College St.)  Map
9:00-until
VISIT MISSISSIPPI PRESENTS BLUES IN THE ROUND

Open Mic/Jam Session: Join award-winning performing songwriter Tricia Walker for an intimate "in the round" acoustic event at Mississippi Grounds. A "pilgrim chair" will be open for invited conference guests to join in the music.

Coordinator: Tricia Walker

Mississippi Grounds

219 S Court St.
---
Tuesday, October 4, 2016 – GRAMMY Museum Mississippi & DMI
9:00-2:00

REGISTRATION


9:00-12:00 GRAMMY Museum
1:00-3:00 Delta Music Institute

GRAMMY & DMI Lobby
9:00-10:30
KEYNOTE BRUNCH

Grammy Winner Lawrence "Boo" Mitchell, Royal Studios, Memphis

Introduction: Dr. Rolando Herts, Director, Delta Center for Culture and Learning

GRAMMY Museum

800 W. Sunflower Road, Cleveland, MS

10:30-12:00
Visit the Grammy Museum
Discounted tickets available for conference attendees with lanyards.
GRAMMY Museum
12:15-1:30
Lunch (on your own)
Cleveland
1:40-2:55
PAPER/PERFORMANCE SESSION: Performing the Blues

Dr. Adam Potter, Delta State University: Blues-Inspired Arrangements for Mixed Choir

Although the blues emerged as a vernacular form, classical and art music performers have adapted it for their genres to great effect. In this 20-minute concert session, the Delta Chorale will sing art music arrangements of blues-inspired songs written for the traditional mixed choral ensemble. Although these art-music arrangements bend the definition of blues, they will demonstrate the power of the blues to thrill audiences and educate students and performers alike. Dr. Kumiko Shimizu, piano.

Dr. Bret Pimentel, Delta State University: Blues Horns: Roles and Responsibilities of "Horn" Players in Blues Bands

Saxophones and other "horns" can rival electric guitars as expressive solo instruments in the blues. But their other roles, when not playing solos, are not as clearly defined. This presentation will consider saxophonists such as Eddie Shaw and A. C. Reed whose careers were built largely on playing as sidemen to blues singers and guitarists in recorded urban blues from the 1940s through the 1960s.

Moderator: Dr. Jamie Dahman

DMI Studio A
1:40-2:55
PAPER SESSION: The Blues and Rock in the 1960s

Prof. Charles Gower Price, West Chester University of Pennsylvania (emeritus): Jimi Hendrix and the Blues Tradition

Hendrix developed a thorough understanding of the blues, and his transformation of blues to rock ranged from the showmanship of Buddy Guy to the deep blues of Muddy Waters, Howlin' Wolf, and John Lee Hooker. A survey of his blues covers and original blues compositions reveal his mastery of the blues aesthetic.

Dr. Tom Zlabinger, York College / CUNY: Rave Up: The Yardbirds' Up-Tempo Transformation of the Blues

The English band The Yardbirds launched the careers of several blues-based musicians, most notably Jeff Beck, Eric Clapton, and Jimmy Page. This paper will examine the 1965 album, Having a Rave Up with the Yardbirds, to explore how the Yardbirds transformed the blues into one of rock's most common mannerisms.

Prof. Larry Francis Hilarian and Mr. Raymund Anthony, Nanyang Technological University, Singapore: The Anglo-American Blues/Rock Sub-Cultural Musical Impact on the 1960s Youth Generation of Singapore

Blues in Singapore developed as a sub-culture amongst the marginalized western educated youths. This study examines the significances of the Anglo-American musical tradition which has left a lasting impact on the local youth culture of the 1960s generation and the changes it has undertaken over the last half a century.

Moderator: Carolyn Ann Sledge

DMI 201
3:00-4:00
PRESENTATION/PERFORMANCE: Pedagogy and the Blues

Dr. Matt Leder, Gadsden State College: Turning Our Ears On Through Active Listening and Jazz Improvisation

This session will cover concepts of listening, through the art of jazz improvisation. This approach provides an alternative way of teaching beginning jazz improvisation through incorporating concepts of active listening and phrasing concepts within the 12 bar blues form.

Dr. Linda Nicole Blair, University of Washington, Tacoma: Can Anyone Sing the Blues?

The blues can be used in the literature and writing classroom to teach students how to express their identities in their own rhythms in order to find an authentic voice.

Moderator: Dr. Bret Pimentel

DMI 201
3:00-4:00
PRESENTATION/WORKSHOP: Quilting the Blues

Dr. J. Janice Coleman, Alcorn State University: "But Why Would You Make a Cotton Sack?": The Blues Sack in Honor of B. B. King

Three popular American quilt patterns–the pinwheel, the nine-patch, and the log cabin–retell the story of King's life in the Mississippi Delta and beyond.

Thea Storz, Brighton Elementary, Island Pond, VT: Quilting the Blues

In this hands on workshop, participants will explore connections between quilters and musicians and explore possibilities for classroom instruction.

Moderator: Mollie Rushing

DMI 202
4:00-5:30
GRAMMY Museum open until 5:30 pm
GRAMMY Museum
6:00
Dine around town (on your own)

Suggestions provided by the Cleveland-Bolivar Chamber of Commerce; reservations recommended.

Cleveland